This weekend on Food Network, tune in for a new episode of Cupcake Wars. Four bakers compete for the chance to serve their cupcakes at the Breeders' Cup World Championships where they'll be judged by actress Bo Derek. Later, tune in for a new episode of On the Rocks. John Green transforms a fight-themed bar in California that's on the brink of bankruptcy.
On Sunday morning, Rachael Ray shares a week's worth of her favorite soup and stew recipes. Then Guy goes hog-wild on Guy's Big Bite by cooking up bacon-wrapped pork kebabs. In the evening, watch a new episode of Cutthroat Kitchen; things get icy when one chef must harvest shrimp from a block of ice.
It's the mother of all horseraces as four cupcake bakers vie for the chance to have their cupcakes at the center of the legendary Breeders' Cup World Championships. To get there, they must win over guest judge Bo Derek — iconic actress, model and Breeders' Cup ambassador. At stake is a $10,000 prize.
Tune In on Saturday, Dec. 28 at 8pm/7c
On the Rocks: Fight Bar Failure
John Green must transform Ringside, a fight-themed bar in Huntington Beach, Calif., that is struggling to stay on its feet. Now $300,000 in debt, owner Travis is unable to pay his bills. If things don't turn around soon, he will be forced to close his doors and declare bankruptcy.
Tune In on Saturday, Dec. 28 at 11pm/10c
Rachael Ray's Week in a Day: Bowled Over
It's a week for all the soup lovers out there. Rach shares more of her favorite soups and stews: Pork and Ancho Stew, Chicken Stew with Carrots and Leeks, Vegetable Soup with Mixed Greens, Spanish Meatballs with Beans and Greens, and Ham, Bean and Bacon Soup with Sauerkraut.
Tune In on Sunday, Dec. 29 at 9am/8c
Guy's Big Bite: Double the Pork, Double the Fun
Today Guy's going hog-wild, dressing up pork with more pork! It's all about Bacon-Wrapped Pork Kebabs — ultra-thick slices of slab bacon woven around cubes of pork loin, all cooked on the grill until tender and extra smoky and basted with a fantastic orange-shallot glaze. On the side, Guy's got an Israeli Couscous and Arugula Salad dressed in a bright vinaigrette to cut the richness of the kebabs.
Tune In on Sunday, Dec. 29 at 10am/9c
Cutthroat Kitchen: Shrimp or Get Off the Pot Sticker
One chef gets put in a sticky situation when his or her pot sticker wrappers are doused in honey. Then, two chefs get up close and personal when they are forced to share ingredients to create their best peanut butter and jelly sandwiches. And in a climactic conclusion, it's fresh versus frozen when a chef must harvest shrimp from a block of ice.
Tune In on Sunday, Dec. 29 at 10pm/9c
More posts from Joseph Erdos.
Similar Posts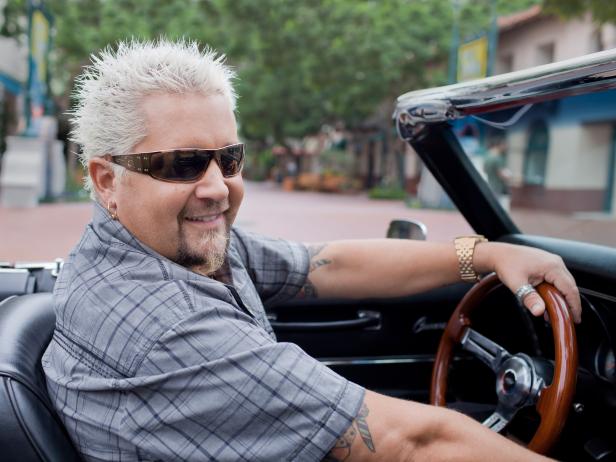 Get the first look at Guy Fieri's upcoming series, Guy's Family Road Trip....