"It's our biggest mission ever: two locations, three days, $50,000," Robert Irvine said of what he was about to take on in Ship Bottom, Long Island Beach, N.J. Just one year ago, that community was devastated — along with so many others along the Eastern Seaboard — when Hurricane Sandy smashed on shore with powerful winds and rain, plus multiple-feet-high storm surges. In the spirit of the season and true to Robert's selflessness, the Restaurant: Impossible host teamed up with Lexus for Holiday: Impossible 2 to give two Ship Bottom businesses that were nearly decimated by the storm a second chance to thrive. With the help of Lexus' generous donation of extra time and an increased budget, plus the commitment of his design and construction teams from Restaurant: Impossible, Robert transformed LBI Pancake House and Ship Bottom Volunteer Fire Company, both once waterlogged from the storm and in dire need of updates if they were to have any chance at lasting futures.
While it's rare for Robert to undertake a project of this magnitude, it's no surprise that he didn't let the feat stop him from completing it on time and with the very best results. After just a few days of work, he reopened LBI Pancake House for owners Bill and Carole Waldron as a vibrant, welcoming eatery worthy of the neighborhood, and he introduced a revitalized kitchen and lounge area at Ship Bottom Volunteer Fire Company President Dan English and Fire Chief Wade Bradley, as well as the company's 30 members. Read on below to hear from Carole and Dan, find out how their locations are doing today and see behind-the-scenes photos.
Carole says of the all-new LBI Pancake House: "Bill and I absolutely love the new design, the color [and] the brightness of the restaurant. My favorite is the mosaic wall." She notes that, in particular, customers "are thrilled the booths are back, plus they love the color combination" of the redone interior.
Given that this time of year is the off-season at the Shore, Bill and Carole haven't begun serving lunch yet at LBI Pancake House, but Carole explains, "We love the beach-to-go idea and are most anxious to advertise and execute it next season." Looking back on the transformation, Carole says, "Robert gave and exhibited such enthusiasm for the restaurant business and showed us that change is good." She adds, "His ideas were magnificent and we are excited to follow them out."
At the fire company, "Everyone is just loving the new spaces," according to Dan. He also says that the "membership is getting better."
The team at the firehouse is taking full advantage of the updates, Dan says. "We have noticed that a lot more people are hanging out upstairs in the lounge .… Nobody ever hung out up there before." He explains: "Now we are holding our monthly meetings downstairs in the hall. Once [the] meeting is over we go straight upstairs to the Robert Irvine lounge … and cook and just hang out! Watching TV, playing pool, shuffleboard."
Dan offered sincere thanks to everyone who made the transformation possible, saying, "Words cannot express enough what it means to the members of the fire company. You have changed the whole morale and atmosphere here."
More from Restaurant Revisited:
Mike La Susa's Italian Restaurant (December 4)
Seven (November 27)
Georgia Boy Cafe (November 20)
Coach Lamp Restaurant & Pub (November 13)
The Windsor 75 (November 6)
Ducky's Family Restaurant (October 30)
Mama Campisi's Restaurant (October 23)
Aponte's Pizzeria (August 25)
Benner Street (July 28)
Hurley's American Grille (July 21)
Kalico Kitchen (July 14)
Angelo's (June 23)
Pier West Restaurant (June 16)
Pinehurst Country Lodge (June 9)
Bryan's Smokehouse (May 26)
Wagon Wheel Family Restaurant (May 19)
Mom & Dad's Italian Restaurant (May 12)
Smitty's Restaurant (April 28)
Old World Italian Restaurant (April 21)
Joe Willy's Seafood House (April 14)
Sweet Tea's Restaurant & Catering (March 24)
Soup to Nuts Diner (March 17)
Caseyville Cafe (March 13)
Maniaci's Italian Restaurant (March 10)
Dinner Bell Restaurant (February 27)
Nanny Goat's Cafe & Feed Bin (February 20)
Sapori D'Italia (January 23)
Windseeker Restaurant (January 16)
Whiskey Creek Steakhouse (January 2)
More posts from Maria Russo.
Similar Posts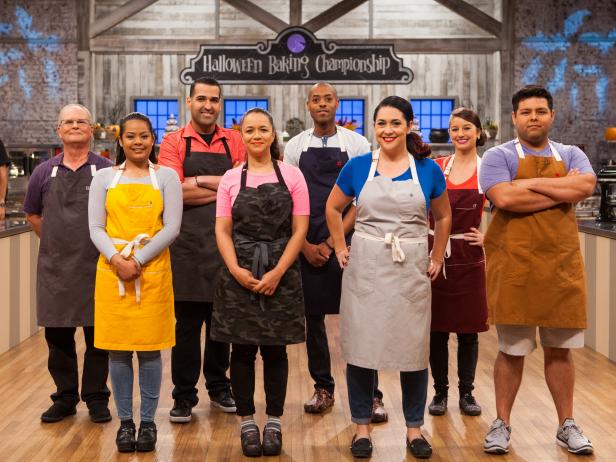 Get the details on the all-new season of Halloween Baking Championship, premiering on Sunday, Sept. 25 at 9|8c....