Facing nearly $300,000 of debt, Sally Fatzz and Brenda Brewer turned to Robert Irvine for a restaurant rescue at their eclectic one-year-old restaurant, Goombazz Big City Eatzz, specializing in regional cuisines from around the country. While Sally had enjoyed prior ventures in the restaurant industry, Brenda was new to the restaurant scene, but both recognized their need for a Restaurant: Impossible
transformation if their business was to have any chance at future success. It didn't take Robert long to realize that this Rock Island, Ill., restaurant was failing largely on account of Sally's out-of-control temper, which ultimately led to unhappy customers and a dissatisfied staff. With a budget of just $10,000 and only two days to work, Robert and his team overhauled the interior of Goombazz, updated the eatery's menu, and began mending Sally and Brenda's relationship. Read on below to hear from both owners and find out how their restaurant is doing today.
Since the transformation, "business is up," Sally says. "We went from $800 to about $1,200 on weekdays, and [on] Friday and Saturday, $3,000." He adds that "everyone loves the new decor." Brenda explains: "The floor is amazing, the bridge mural is beautiful, we love the back bar, but [we] had to add our own lighting, and the kitchen pass-through window being closed up is my favorite change! I also love the fresh flowers on the tables."
Some customers miss dishes from Goombazz's old menu, but Sally admits that, "with the addition of the new entree items, the menu now suits the restaurant better." Nevertheless, he and Brenda have added a few of their original items back to their list of offerings. "Based on sales, we have removed two items that were not selling and replaced them with two old favorites, one of which is our top seller," Sally notes. "Best-selling of Roberts's addition is the fish and chips — and the crab cakes." Brenda adds, "We have perfected the fish, created our own original tartar sauce and people are loving it." Brenda explains that in terms of food prep, "The kitchen staff has perfected the menu and ticket times down to 10 minutes even on our busiest of nights."
Darren is once again working at Goombazz, and Sally notes, "Brenda, myself and [the] staff are very happy to have him back." He adds, "[Darren's] first day back was a big adjustment to new cooking techniques, but after the first week, he and the rest of the staff had Goombazz running like a clock."
Sally explains that he's getting better at handling his anger: "I am thinking before I speak. It has greatly improved my relations with the staff and is helping the restaurant run more smoothly." He adds, "To become a better leader, I have taken a lesson from Robert; I am trying to become a teacher rather than a criticizer."
Looking ahead, Sally tells FN Dish: "I believe that given the proper time, we will get out of debt. We still are barely at a breakeven point, but I believe in the long run it will work."
Check out the top-five video mash-ups of Restaurant: Impossible to see the best design updates, the most-emotional reveals and the dirtiest restaurants. 
More from Restaurant Revisited:
LBI Pancake House (December 8)
Ship Bottom Volunteer Fire Company (December 8)
Mike La Susa's Italian Restaurant (December 4)
Seven (November 27)
Georgia Boy Cafe (November 20)
Coach Lamp Restaurant & Pub (November 13)
The Windsor 75 (November 6)
Ducky's Family Restaurant (October 30)
Mama Campisi's Restaurant (October 23)
Aponte's Pizzeria (August 25)
Benner Street (July 28)
Hurley's American Grille (July 21)
Kalico Kitchen (July 14)
Angelo's (June 23)
Pier West Restaurant (June 16)
Pinehurst Country Lodge (June 9)
Bryan's Smokehouse (May 26)
Wagon Wheel Family Restaurant (May 19)
Mom & Dad's Italian Restaurant (May 12)
Smitty's Restaurant (April 28)
Old World Italian Restaurant (April 21)
Joe Willy's Seafood House (April 14)
Sweet Tea's Restaurant & Catering (March 24)
Soup to Nuts Diner (March 17)
Caseyville Cafe (March 13)
Maniaci's Italian Restaurant (March 10)
Dinner Bell Restaurant (February 27)
Nanny Goat's Cafe & Feed Bin (February 20)
Sapori D'Italia (January 23)
Windseeker Restaurant (January 16)
Whiskey Creek Steakhouse (January 2)
More posts from Maria Russo.
Similar Posts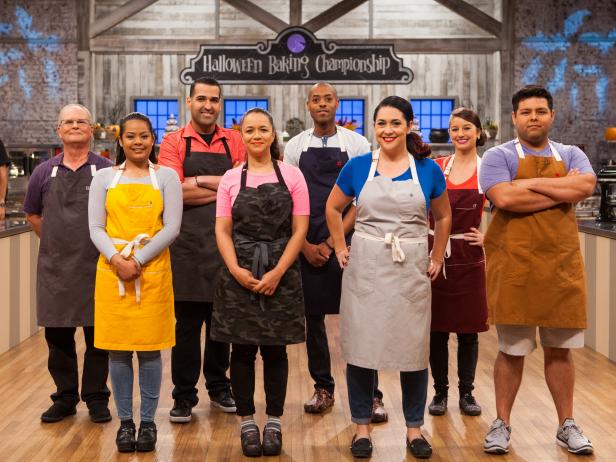 Get the details on the all-new season of Halloween Baking Championship, premiering on Sunday, Sept. 25 at 9|8c....