FN Dish is counting down to the Season 3 premiere of Rachael vs. Guy: Celebrity Cook-Off by introducing a new celebrity contestant every day. During the competition, the celebrities will be tested in a number of different challenges to see who has the most culinary chops. The winner will be awarded the title of Cook-Off Champion and $50,000 for the charity of his or her choice. Watch the premiere Monday, Jan. 6 at 9pm/8c, and keep coming back to FN Dish for exclusive interviews and behind-the-scenes content.
Former NFL player Herschel Walker's claim to fame came while playing for The University of Georgia football team, for which he won the Heisman Trophy in 1982. During his 15-year professional career, he won numerous All-Pro and Pro Bowl honors. Herschel is the founder/CEO of H. Walker Enterprises, LLC (Renaissance Man Food Services). Herschel plans to use his restaurateur experience to his benefit and wants to show off his Southern home cooking during the competition. Herschel is playing for Patriot Support.
Describe your cooking style in three words.
Herschel Walker: Simple, Southern, soul food
What's the first food you recall making?
HW: Apple tarts with my mom
What's the most-memorable meal you have ever had?
HW: Thanksgiving meals with my family in Wrightsville, Ga.
Who is your favorite chef or food TV personality, past or present?
HW: Guy Fieri
What food will we never catch you eating?
HW: Seafood
What's your signature dish?
HW: Apple tarts
What's your guilty pleasure food?
HW: Honey Bun with a Coca Cola
What's your favorite kitchen tool that you can't live without?
HW: Black-iron skillet
What's the weirdest item we'd be surprised to find in your fridge?
HW: That the fridge is pretty empty
What music do you like to listen to in the kitchen?
HW: Gospel
Going into Rachael vs. Guy, who would you pick as your biggest competition and why?
HW: Tiffany because she is a great cook, and she has a lot of experience cooking for large parties at her home.
Why do you want to be the next Rachael vs. Guy Celebrity Cook-Off Champion?
HW: I have a food service business and own a restaurant in Athens, Ga. I want to show that athletes can cook as well.
Rapid fire: Think fast!
Sweet or Savory? Sweet
Coffee or Tea (Sweet)? Tea (Sweet)
Vanilla or Chocolate? Chocolate
Ketchup, Mustard or Mayo? Ketchup
French Fries or Onion Rings? French Fries
Salt or Pepper? Pepper
Burger or Hot Dog? Hot Dog
Beer, Wine or Liquor? None
More posts from Joseph Erdos.
Similar Posts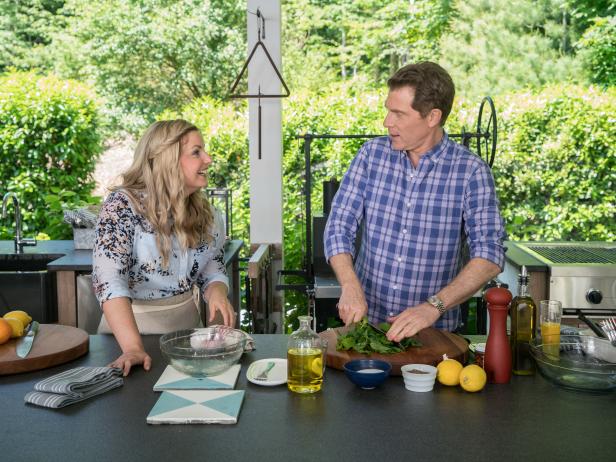 Get the latest details on the all-new series, The Bobby and Damaris Show....