FN Dish is counting down to the Season 3 premiere of Rachael vs. Guy: Celebrity Cook-Off by introducing a new celebrity contestant every day. During the competition, the celebrities will be tested in a number of different challenges to see who has the most culinary chops. The winner will be awarded the title of Cook-Off Champion and $50,000 for the charity of his or her choice. Watch the premiere Monday, Jan. 6 at 9pm/8c, and keep coming back to FN Dish for exclusive interviews and behind-the-scenes content.
Actress Florence Henderson has graced Broadway, television and the silver screen, but she will always be known as "America's favorite mom" — Carol Brady from the TV series The Brady Bunch. In 2008, Florence was honored in the Smithsonian Institution's first permanent entertainment history exhibit as one of TV's greatest pop cultural icons of all time. Florence is ready to prove there's more to her than people would expect from Mrs. Brady — and Alice won't be around to do the cooking. Florence is playing for City of Hope.
Describe your cooking style in three words.
Florence Henderson: Ordering from a menu
What's the first food you recall making?
FH: Vegetable soup
What's the most-memorable meal you have ever had?
FH: At any Italian restaurant in Tuscany
Who is your favorite chef or food TV personality, past or present?
FH: Julia Child
What food will we never catch you eating?
FH: Liver
What's your signature dish?
FH: Pasta
What's your guilty pleasure food?
FH: Ice cream
What's your favorite kitchen tool that you can't live without?
FH: My corkscrew
What's the weirdest item we'd be surprised to find in your fridge?
FH: Udo's Oil
What music do you like to listen to in the kitchen?
FH: A good sports match on TV
Going into Rachael vs. Guy, who would you pick as your biggest competition and why?
FH: Penn Gillette because he works his magic in the kitchen
Why do you want to be the next Rachael vs. Guy Celebrity Cook-Off Champion?
FH: Because I like winning.
Rapid fire: Think fast!
Sweet or Savory? Savory
Coffee or Tea? Coffee
Vanilla or Chocolate? Vanilla
Ketchup, Mustard or Mayo? Mayo
French Fries or Onion Rings? Onion Rings
Salt or Pepper? Pepper
Burger or Hot Dog? Neither
Beer, Wine or Liquor? Wine
More posts from Joseph Erdos.
Similar Posts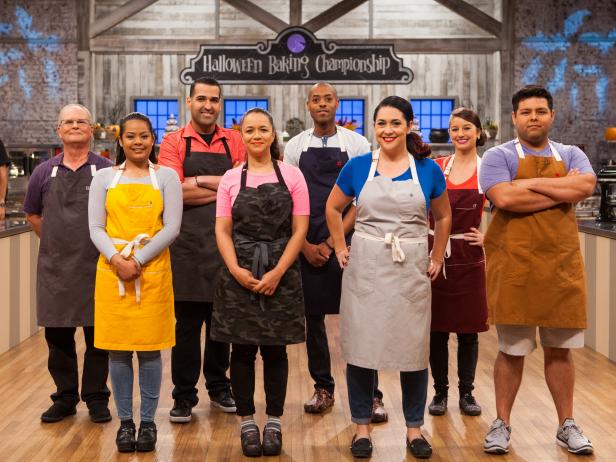 Get the details on the all-new season of Halloween Baking Championship, premiering on Sunday, Sept. 25 at 9|8c....