Having been a judge on the premiere season of
Cutthroat Kitchen
, Simon Majumdar is no stranger to the tricks and challenges that befall competitors in each round of cooking, but after eating set cheese and soupy ice cream on tonight's all-new Season 2 premiere, he needed a few clarifications on how the dishes came to be. Host
Alton Brown
— who's not only privy to the sabotages, but in charge of auctioning them off as well — filled in Simon during the latest installment of his
After-Show
.
It turns out that the patty melt-inspired dish that Chef Stratton gave Simon was mushroom-heavy on account of the Freeze Dried Meat product he was forced to work with after Chef Wiginton assigned it to him. "There was no patty in the dish, really," Simon told Alton. "It was mushroom-heavy, and I guess that's what he did to try and compensate, but it kind of overcompensated a bit." This ingredient was so unlike fresh meat that it prevented Chef Stratton from turning it into a traditional patty.
Simon finally understood why Chef Doruil's cheese was so oddly clumped together: First he was gifted a plate of nachos from which he had to source the cheese for his patty melt, then he was forced to cook the rest of this dish with an iron. This household item ultimately prevented him from thoroughly melting the cheese. He "was holding the iron over the cheese trying to get the radiant heat from the iron to melt the cheese," Alton explained.
Come Round 3, the eventual winning chef received a hands-on lesson in ice cream making when a sabotage forced her to shake an ice-filled ball with cream until the mixture became frozen. "That probably explains why that ice cream was just a little bit loose," Simon said, after learning of the mandatory product.
Click the play button on the video above to hear more from Simon and Alton, and learn their thoughts on more of the challenges from the Season 2 premiere. What did you think of the chefs' attempts at cooking with the sabotages? How would you have approached cooking a patty melt with an everyday iron?
More posts from Maria Russo.
Similar Posts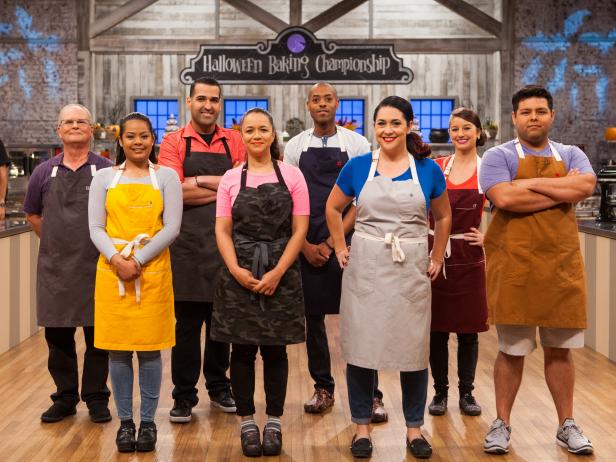 Get the details on the all-new season of Halloween Baking Championship, premiering on Sunday, Sept. 25 at 9|8c....