The most-decadent holiday of the year may have passed us by, but that doesn't mean we're nixing comfort foods on these cold, wintry days. Some needs just can't be put on hold for diets or cleanses, especially when you're swaddled in sweaters and huddled for warmth. That's why, this week, FN Dish is adding seasonal winter squash — a most-satisfying, sweet and adaptable piece of produce — to the grocery cart.
At the market, keep your eyes peeled for winter squash varieties like butternut, delicate, acorn, kabocha and spaghetti squashes. Follow FN Dish's lead and cook up winter squash creations that are inventive, filling and seasonal. Whether it's your first squash of the season or you already have leftovers in the fridge, these recipes are family favorites in the making.
Before you do anything else, learn how to break kabocha and butternut squashes down with Food Network Magazine. That way, there's nothing preventing you from making Squash Gratin, a two-squash side that's nice and velvety under its crispy, cheesy crust.
Look to Ina to bring a little elegance to your squash. First, make her Winter Squash Soup as a starter or soothing dinner. Soak up all that creamy butternut squash goodness with a piece of crusty bread, and don't forget to top with a dollop of creme fraiche before serving. Try stirring cubes of fresh squash into your next risotto too. Ina's Saffron Risotto with Butternut Squash (pictured above) is sophisticated enough for a dinner party, yet comforting enough for a solo lunch on a blustery day.
Creamy and satisfying, winter squash jives well with your favorite pasta dishes. Rachael's Butternut Squash Mac and Cheese may call for frozen squash, but cook up the fresh stuff to deepen the creaminess of this family favorite. Or layer it up for Giada's Butternut Squash Lasagna. Don't hesitate about blending amaretti cookies into creamy squash; they help to create a distinctively sweet squash puree that exits the oven rich and bubbling.
Acorn squash is known for a discernibly nutty sweetness. Guy uses it for his Acorn Squash Soup, a smooth blend best when slowly simmered in a Dutch oven with a little cream.
Sometimes comfort food can be out of your comfort zone. Pull a fast one on your family with Food Network Magazine's Spaghetti Squash and Meatballs. This healthy alternative has all the looks of the traditional Italian mainstay.
Move your comfort foods beyond butter and cream: Try flavoring your squash with bold, invigorating spice blends instead. Food Network Magazine's Curried Winter Squash is dusted with a little curry powder, while Spiced Squash with Yogurt Dressing enlivens kabocha squash with allspice, cayenne pepper and fresh lime juice.
Anne Burrell knows how to make a delectable pie with the fresh stuff. Don't even think about serving her Kabocha Squash Pie with Spiced Crust without some freshly whipped cream.
More winter squash recipes from friends and family:
Feed Me Phoebe: Baked Acorn Squash with Maple-Siracha Glaze
Jeanette's Healthy Living: Thai Red Curry Chicken with Winter Squash
The Lemon Bowl: Stovetop Mac and Cheese with Winter Squash
Big Girls, Small Kitchen: Provencal Chicken Stew with Butternut Squash & Chickpeas
Weelicious: Cinnamon Roast Butternut Squash
Elephants and the Coconut Trees: Creamy Squash Rigatoni
Blue Apron Blog: Acorn Squash Tempura Tacos
Taste With The Eyes: A Hearty Tomato Soup with Sausage and Spaghetti Squash
Devour: Winter Squash Macaroni and Cheese
Dishin & Dishes: Roasted Acorn Squash Crescents with Sage Pecan Pesto
Napa Farmhouse 1885: Roasted Pumpkin & Apple Slices with Maple Syrup
Red or Green: Butternut Squash Salad with Kale, Cranberries and Cayenne
Virtually Homemade: Spaghetti Squash Lasagna with Basil Walnut Pesto
Domesticate Me: Chipotle Pork Tenderloin and Butternut Squash Tacos
Daily*Dishin: Kahlua Baked Acorn Squash
FN Dish: Comforting Winter Squash Sides
More posts from Allison Milam.
Similar Posts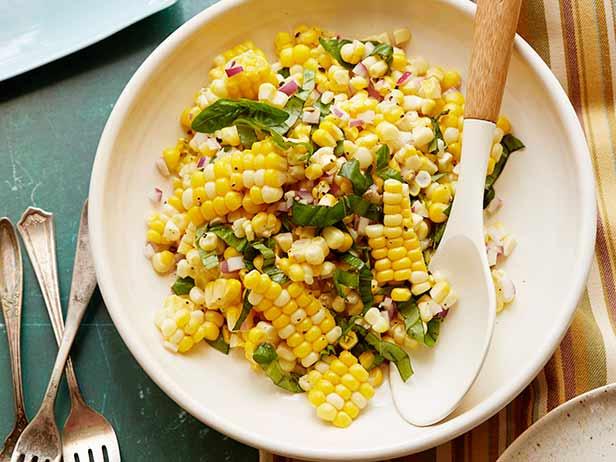 Think beyond the usual presentation of corn with butter and salt....