Bacon and eggs. Milk and cookies. Some things just go hand in hand. Broccoli and cheddar? Now that is a union of epic proportions. Luckily, there are many ways for you to indulge your broccoli-cheddar fixation, especially now that this favorite winter veggie is perfectly in season. With this trusty recipe list on your side, you have every reason to witness this fated pairing on your plate this week.
1. Perhaps the most-iconic display of broccoli and cheddar together is eaten with a spoon. Food Network Magazine's Almost-Famous Broccoli-Cheddar Soup is creamy and rich, best when served restaurant style in a crusty bread bowl. For those hoping for something a little less heavy, Healthified Broccoli-Cheddar Soup is your saving grace.
2. Say goodbye to your strolls down the brisk freezer section. Make homemade Broccoli-Cheddar Pockets, like these by Food Network Magazine, by folding fresh broccoli and sharp cheddar cheese into store-bought French bread dough. No microwave required.
3. Sometimes going the simple route is the best way of all. Food Network Magazine suggests sprinkling broccoli with savory breadcrumbs, sharp cheddar and scallions in its Roasted Cheddar Broccoli.
4. Toss broccoli, scallions and bacon together with grated cheddar for homemade potato skins. This recipe for Broccoli-Cheddar Potatoes will show you how to do the rest.
5. Risotto is known for being pretty tedious to prepare — with all that stirring and stirring and stirring — but this broccoli-cheddar rendition is just the opposite. Stir our two star ingredients into Arborio rice for creamy, comforting Broccoli-Cheddar Oven Risotto and forget about it.
6. Use a store-bought mix to help you bake the Neelys' Broccoli-Cheddar Cornbread without a sweat. Serve it alongside a heaping bowl of comforting chili for the ultimate weeknight meal this winter.
7. Ellie Krieger's Broccoli and Cheddar Frittata only requires five ingredients, making it the perfect no-frills addition to a weekend brunch.
8. Laden with stringy cheese, Sunny's Cheesy Mushroom and Broccoli Casserole (pictured above) can be a comforting part of your holiday meal spread. Sunny goes for a cheddar-Monterey blend this time around.
9. Reel the family in with Rachael's Mac and Cheddar Cheese with Chicken and Broccoli tonight. The green veggie adds a crunchy dimension to this notoriously creamy dish.
10. Just like cheddar, broccoli belongs in the quintessential baked potato. The Neelys' Twice-Smashed Baked Potatoes are bursting at the seams with creamy, hearty goodness.
More broccoli recipes from our friends and family:
The Lemon Bowl: Roasted Broccoli with Hoisin Dipping Sauce
Jeanette's Healthy Living: Garlicky Cheesy Broccoli Gratin
Napa Farmhouse 1885: Italian Broccoli with Garlic, Chiles and Parmigiano Reggiano
Red or Green: Szechuan Broccoli and Chicken
Virtually Homemade: Roasted Broccoli with Garlic, Parmesan and Lemon
Dishing: Broccoli Soup
Weelicious: Broccoli Salad
Elephants and the Coconut Trees: Broccoli and Bell Pepper Soup
The Sensitive Epicure: Pureed Broccoli with Garlic
Domesticate Me: Roasted Broccoli, Chicken and Cheddar Quinoa Bake
Dishin & Dishes: Broccoli Garlic Pancetta Quiche
Taste With The Eyes: Roasted Broccolini Soup with Creme Fraiche, Meyer Lemon
More posts from Allison Milam.
Similar Posts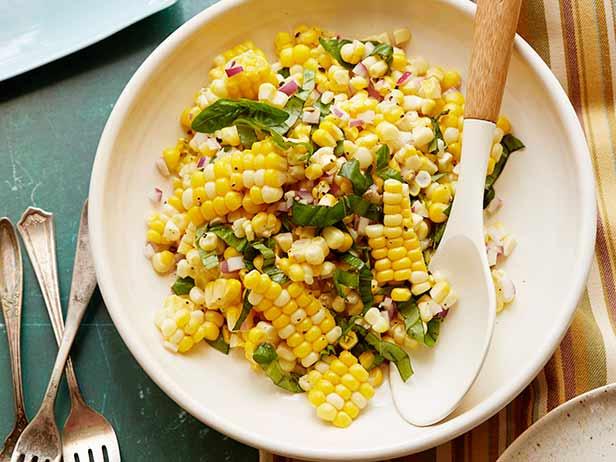 Think beyond the usual presentation of corn with butter and salt....