Thanksgiving wouldn't be complete without lots and lots of food. So while Alton, Bobby, Giada and Ina are answering your turkey day questions on Thanksgiving Live!, they're also whipping up some great holiday recipes. Don't worry if you missed an ingredient or a direction, we have all the recipes available right here on FN Dish. You'll find everything from the show including Alton's centerpiece Thanksgiving Live Roast Turkey, Bobby's Roasted Shrimp in Cazuela, Ina's Kir Royale and Giada's Apple Crostata.
Keep watching Thanksgiving Live! and stay for the Google+ Hangout directly afterward for some great ideas on using up leftovers and more turkey talk from our Food Network stars.
From Alton:
Thanksgiving Live Roast Turkey
Baked Macaroni and Cheese
Brussels Sprouts with Pecans and Cranberries
Good Gravy (made with Clarified Butter)
Cranberry Sauce
From Bobby:
Country Bread Stuffing with Goat Cheese, Kale and Bacon
Mashed Potatoes with Smoked Paprika and Chives
Roasted Turkey a la Tangerine
Roasted Shrimp in Cazuela
Spanish Cranberry Sparkling Martini
From Giada:
Turkey Breast "Porchetta"
Kale and Gorgonzola Salad
Apple Crostata
Thanksgiving Turkeys
From Ina:
Kir Royale
Roasted Figs and Prosciutto
Accidental Turkey
Mushroom and Leek Bread Pudding
Green Beans Gremolata
And don't forget to check out Food Network's Thanksgiving Central for recipes, menus and entertaining ideas.
More posts from Joseph Erdos.
Similar Posts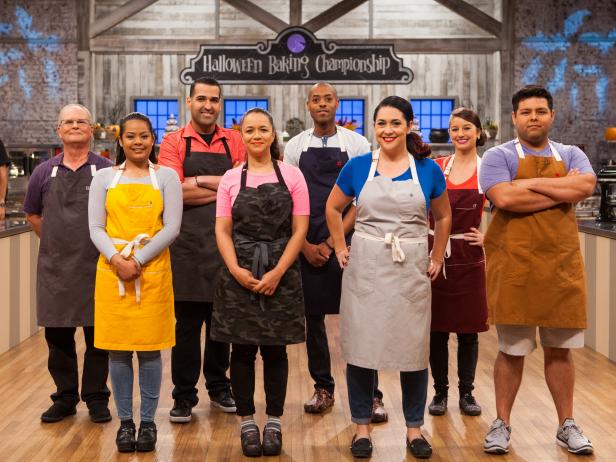 Get the details on the all-new season of Halloween Baking Championship, premiering on Sunday, Sept. 25 at 9|8c....