You likely have your Thanksgiving menu set. For all we know, it was set in stone years ago, probably when your all-knowing elders were in charge. The turkey part of Turkey Day is a no-brainer, but the sides are like a puzzle. You'll serve the usual contenders — fluffy mashed potatoes with a puddle of gravy, Grandma's sweet potato casserole (marshmallows and all) — but you'll need something else to balance out all that richness.
This year, as your family gathers around the dinner table for yet another Thanksgiving meal, look to another veggie that's at the top of every restaurant menu and grocery list: Brussels sprouts. We like ours cooked right — caramelized and tender at every layer. As you draft up your preliminary rounds of potential recipes, keep in-season Brussels sprouts at the top of your list.
Turkey Day is known for chaos. Ease things up and simply drizzle halved sprouts with olive oil for basic Roasted Brussels Sprouts by Food Network Magazine. And with just one small addition, Brussels Sprouts with Bacon take on a smoky saltiness, perfect for the big Thanksgiving meal or any night of the week.
On Thanksgiving of all days, sides are best when they're bountiful. Bobby Flay makes Roasted Brussels Sprouts with Pomegranate and Hazelnuts, a dish so rich in color that it'll serve as the centerpiece of your table. And if the name doesn't make it clear, Guy's Bumped-Up Brussels Sprouts are joined by loads of goodies, like pine nuts, currants, raisins, balsamic vinegar and even pancetta; the combination serves up sweetness, saltiness and acidity in one forkful.
Add dried cranberries to your sprouts for a festive, seasonal sweetness. Alton Brown's Brussels Sprouts with Pecans and Cranberries counter the tartness of the fruit with salty chopped nuts. Ree's Brussels Sprouts with Balsamic and Cranberries (pictured above) add in an extra shot of acidity.
Swap out the typical potato gratin side for a green take, like Claire Robinson's Brussels Sprouts Gratin. It's a decadent way to get your sprout fix.
For those who can't decide on one veggie, serve a cornucopia of roasted ones — Brussels sprouts included, of course. Giada's Roasted Potatoes, Carrots, Parsnips and Brussels Sprouts are a colorful, dynamic addition to your holiday table. Or try Food Network Magazine's Roasted Brussels Sprouts and Carrots; brightened up with lime juice, mint and red pepper flakes, it brings an exciting twist to favorite fall ingredients.
More Brussels sprouts recipes from friends and family:
Feed Me Phoebe: Roasted Brussels Sprout and Gruyere Toasts
Jeanette's Healthy Living: Tangy Brussels Sprout Apple Salad
Big Girls, Small Kitchen: Roasted Brussels Sprout Salad with Maple Vinaigrette and Crunchy Breadcrumbs
Napa Farmhouse 1885: Roasted Brussels Sprouts Salad with Tahini Vinaigrette
Red or Green: Spicy Skillet Brussels Sprouts with Bacon
Elephants and the Coconut Trees: Sauteed Brussels Sprouts with Yogurt Garlic Dip
Domesticate Me: Brie Quesadillas with Brussels Sprouts, Bacon and Beer-Glazed Onions
Virtually Homemade: Pan-Roasted Brussels Sprouts with Butternut Squash
Dishing: Brussels Sprouts with Plain Omelette
Devour: Chefs' Best Brussels Sprouts
Weelicious: Shredded Brussels Sprouts with Poppy Seeds
Dishin & Dishes: Brussels Sprouts Gratin
More posts from Allison Milam.
Similar Posts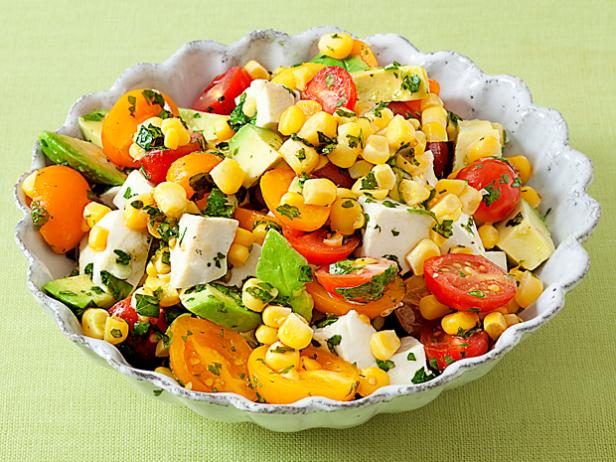 When it's too hot to cook, look no further than these tomato-focused recipes....