It's November, and for all we know, you're already knee-deep in beef stew, spaghetti and meatballs, and chicken noodle soup. We get it. Fall means comfort: stews so tender the meat is falling off the bone and casseroles so cozy you get knocked into a nap at the last bite.
Here's the thing: Comfort food doesn't need to be synonymous with meat. Believe it or not, even the most unassuming veggies have the power to cure us of all our woes. Leave it to cauliflower — and these recipes — to bring you all kinds of comfort this season.
Stir a pot of risotto to sultry completion, this time with roasted cauliflower florets and sliced almonds adding that extra crunch. Food Network Magazine's Roasted Cauliflower Risotto (pictured above) can work as a rich main dish, or as a smaller side.
A heaping bowl of pasta – with the obligatory dusting of Parmesan — has always been known to do the trick. Food Network Magazine's Cauliflower-Onion Linguine is brimming with panko breadcrumbs and sauteed-till-golden cauliflower. With smoked Gouda and cauliflower in each bite, Rachael Ray's creamy mac and cheese is better than anything you'd get from a box.
Prime rib has its time and place. Tonight cut into surprisingly meaty Roasted Cauliflower Steaks with Raisin Relish as an alternative to the steakhouse dinner. This meatless main is so tender it won't even need your steak knife.
For those looking for comfort with a spicier edge, Slow-Cooked Curried Chicken with Cauliflower comes together with a Southeast Asian curry paste, ginger and cilantro. Or transform raw, rigid cauliflower into Rachael's silkiest Cauliflower Soup, and be sure to dip garlicky, cheesy sourdough toasts with each bite.
Rachael's creamy Chicken Tetrazzini Casserole with Cauliflower is stocked with egg noodles, mushrooms and cream sauce. If there was ever an issue before, the kids will definitely be on board with cauliflower tonight.
For a lighter take on your fall potato favorites, substitute mashed potatoes for Cauliflower Puree, potato gratin for Ina Garten's highly rated Cauliflower Gratin and roasted potatoes for Roasted Cauliflower. You'll never look back.
More cauliflower recipes from friends and family:
Big Girls, Small Kitchen: Roasted Cauliflower and Bulgur Salad
Jeanette's Healthy Living: Roasted Garlic Cauliflower and Potatoes
Feed Me Phoebe: Pan-Roasted Cauliflower
Devour: Cauliflower and Broccoli Mac and Cheese for Thanksgiving
Blue Apron Blog: Cauliflower "Mac 'n Cheese"
Napa Farmhouse 1885: Roasted Cauliflower and Broccoli with Cranberries and Garlic Breadcrumbs
Red or Green: Cauliflower, Leek and Pepper Frittata
Virtually Homemade: Roasted Cauliflower with Bacon and Parmesan Cheese
Taste With The Eyes: Saffron Cauliflower à la Ottolenghi
Domesticate Me: Cauliflower Crust Pizza with Roasted Vegetables and Goat Cheese
The Sensitive Epicure: Cauliflower Flat Bread (Gluten-Free)
Weelicious: Cheddar Cauliflower
Cooking With Elise: Roasted Cauliflower with Cheese Fondue
The Heritage Cook: Lemon Kissed Cauliflower with Dukkah Seasoning
More posts from Allison Milam.
Similar Posts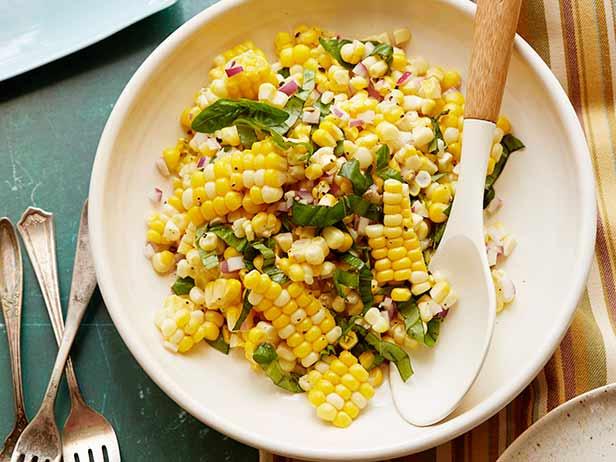 Think beyond the usual presentation of corn with butter and salt....