On this past Sunday's finale of The Great Food Truck Race, the three remaining teams rolled into Maryland for a crabbing adventure in the bay. In a surprise turn of events, one team was eliminated right on the spot, just before Tyler sent the final two teams to Arlington, Va. The last day of selling took place in the nation's capital, where securing street-side locations and generating a crowd wasn't so easy. But you can't blame the locals — with so many restaurant options to choose from, it's hard to be the new kids on the block.
Washington, D.C., has a lot going for it food-wise, and even though it doesn't have a famous dish associated with it like New York City or Chicago, it has eateries with international flair and ones that have been around for decades, serving classic dishes that draw both locals and tourists. FN Dish has rounded up a sampling of the restaurants from Food Network's On the Road guide. Check them out below.
For his take on the Cuba Libre cocktail, bar manager Jonathan Fain fills a modified Coca-Cola bottle with vanilla gelato, rum and Mexican Coke, then tops it off with absinthe-laced whipped cream and a Southern Comfort-soaked cherry.
Chocolate Decadence at The Ritz Carlton
For less than two Jacksons ($40) you can experience buffet-style chocolate elegance. Every Saturday evening The Ritz Carlton opens the bar to a night of sumptuous chocolate flavors right down to the drinks, including dark chocolate and raspberry martinis.
It didn't take long for James Alefantis to realize that combining his two loves, pizza and Ping-Pong, would be a great idea. In comes Comet Ping Pong, a popular D.C. hangout. Signature dishes include the Yalie, a clam pizza, and the roasted pork Philly calzone.
This eatery takes its cue from a group of farmers — 42,000 to be exact. Not surprisingly, every dish embodies the restaurant's belief in farm-fresh, seasonal ingredients. Try the "devilish" deviled eggs, made with crab, lobster and smoked salmon. Other signature dishes include Yankee Pot Roast and Farmers Meatloaf.
The Next Iron Chef contestant Spike Mendelsohn opened Good Stuff Eatery with enough mouthwatering burger and shake standbys to last a lifetime. Locals love the Toasted Marshmallow Milkshake, but watch out for such burgers as the Colletti's Smokehouse Burger made with chipotle barbecue sauce.
Granville Moore's Belgian Beer & Gastropub
At Granville Moore's the mussels in the signature Moules Fromage Bleu double as a serving spoon, getting loaded with a delicious broth of white wine, pork belly and an unusual but oh-so-perfect ingredient: blue cheese.
Famed ambassador of Spanish cuisine Chef Jose Andres' multiple Jaleo restaurants have become D.C. institutions. With more than 30 "small plate" tapas to consider and six signature paellas, Jaleo gets a hearty "Ole!" from D.C. locals.
This D.C. spot is loved by locals, but it's also a hangout for NFL players during the off-season. Locals love the fantastic fried wings, but if you want something a little different, try the turkey wings.
Round Robin Bar at the Willard Hotel
Located a few blocks from the U.S. Capitol, the Round Robin Bar has been serving D.C. socialites its refreshing mint juleps since the days of Abraham Lincoln. For another history lesson, order from the extensive Scotch menu, which honors the traditionally divided six regions of Scotland.
The restaurant's best sandwich, the Athens, is like a Middle Eastern burger: a spicy lamb patty topped with tzatziki, tomato and greens.
Using no animal products of any kind, Doron Petersan of Sticky Fingers has crafted a solid following to her delectable vegan cupcakes. D.C. locals flock to her store for everything from peanut butter fudge cupcakes to vegan chili dogs.
Don't be fooled by its outside; this Maryland-style crab house has more than 35 years of happy customers. With a few lessons, you can pry into the tasty steamed Chesapeake crabs served with butter, spicy seasoning and vinegar.
For a little spice and no D.C. politics, Tortilla Cafe delivers with Salvadoran pork-and-cheese pupusas. You'll also want to try the chicken tamales made with a traditional masa and the perfect blend of spices.
For more than 60 years, politicians and hungry tourists have ventured to D.C.'s Tune Inn for classic, greasy dive food. Their famous Bon Ton sauce is used generously for such specials as Joe's West Virginia sandwich made with American cheese and the beer-battered burger, dripping with flavor.
Find more recommended restaurants in D.C. with Food Network On the Road.
More posts from Joseph Erdos.
Similar Posts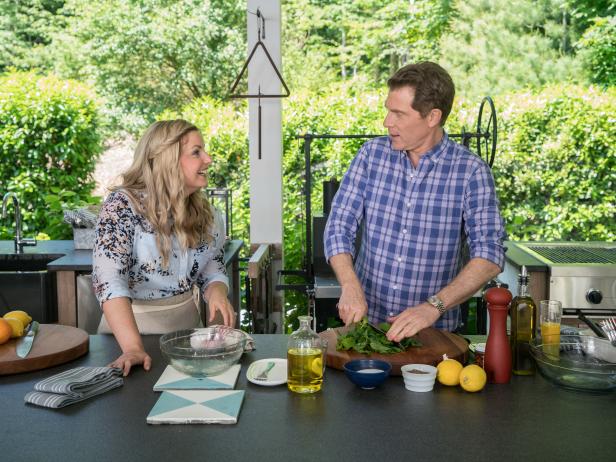 Get the latest details on the all-new series, The Bobby and Damaris Show....