Put down those potatoes, people. Here at FN Dish, we're spending a little quality time with one of the most under-appreciated veggie around: the turnip. Odds are it's not the star of your fall spread. Heck, maybe you've never even cooked this root vegetable before. Well, now that turnips are in season, they're smaller, sweeter and bound to woo you.
More closely related to peppery arugula and radishes than beets or even potatoes, turnips come with loads of benefits. Not only do turnips add a quick zip to sides, mains and more, they're also inexpensive, meaning you can load up on them at the store. Turnips are loaded with nutrients, especially if you hang on to the greens. Saute, roast, mash or blanch your turnips. Hey, you can even take 'em raw in a salad.
Turnips are capable of making a statement on the table. Food Network Magazine's Turnip Gratin with Almonds (pictured above) comes out of the oven bubbling and sprinkled with toasted breadcrumbs, while Herbed Leg of Lamb with Roasted Turnips gives turnips a celebratory edge.
It may resemble standard mashed potatoes, but Tyler Florence's Buttered Turnip Puree is an alternative to the classic, creamy side dish. The Neelys' recipe for Mashed Turnips and Sage combines russet potatoes and turnips for a comforting side — so much for meat and potatoes.
Topped with sunny-side-up eggs and a dynamite miso butter, Roasted Baby Turnips with Miso Butter and Fried Eggs is best served right out of a cast-iron skillet. Capitalizing on the nose-to-tail phenomenon — well, in the veggie sense — this recipe unites the roots with the greens.
Turnips are lovely when glazed too. Simply graced with butter and sugar, Glazed Carrots and Turnips are easy enough for a weeknight side or for a busy holiday meal, when you have a full plate of cooking ahead of you. Or go for Food Network Magazine's vibrant Glazed Sugar Snap Peas and Turnips.
Food Network Magazine's Roasted Turnips and Mushrooms recipe ensures that turnips reach golden, tender perfection, needing only a bit of salt and pepper for seasoning.
And here's our last turnip move: Food Network Magazine's Stewed Turnip Greens. Cook the peppery greens of the turnip — which have that similarly welcomed bitterness of arugula, kale, mustard greens and more — down with a little garlic, making way for loads of nutrients.
More turnip recipes from friends and family:
Feed Me Phoebe: Mashed Turnips with Miso Butter
The Lemon Bowl: Baked Turnip Chips
Purple Cook: Turnip and Tomato Curry, Recipe Reviewed
Domesticate Me: Roasted Root Vegetable Salad with Herbed Goat Cheese
Napa Farmhouse 1885: Easy Roasted Root Vegetables
Red or Green: Roasted Turnip and Parsnip Soup with Toasted Walnuts
Dishing: Roasted Turnips with Parmesan
Taste With The Eyes: Quinoa Corn Timbale, Turnip Confit, Quail Egg and Fried Sage with a Demi-Glace
The Sensitive Epicure: Mashed Turnips with Celery Root
Devour: 4 Ways to Cook Turnips
In Jennie's Kitchen: Turnip Soup
Cooking With Elise: Turnip Farmers Tell All
FN Dish: Turnip Recipes Revisited
More posts from Allison Milam.
Similar Posts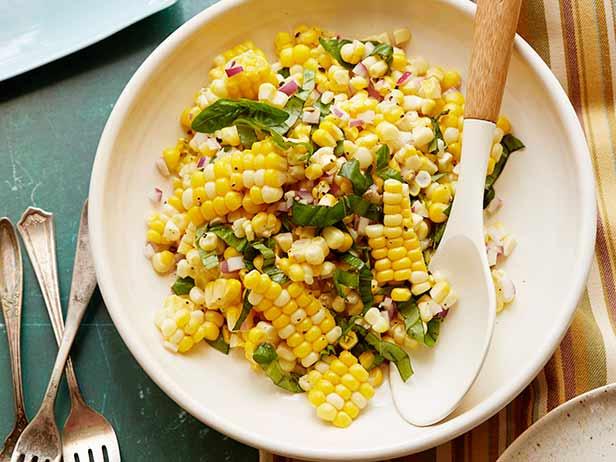 Think beyond the usual presentation of corn with butter and salt....