Pull on your first sweater of the season and the craving for all things pumpkin spice immediately sets in. This traditional flavor hinges on seasonality, influencing our lattes, air fresheners and baked goods as soon as the air turns crisp. Though pumpkins from the patch may lead to stoop decoration, they never seem to reach the table. We use canned store-bought pumpkin year after year and pie after pie.
The canned option is convenient, often coming with spice and without the daunting task of dismembering a whole pumpkin. Though getting down to the flesh of a pumpkin — especially that of the smaller, sweeter sugar pumpkin — is a rewarding undertaking. This fall, do more with pumpkin than carving grinning jack-o'-lanterns. Slice it into chunks, use it for its seeds or transform it into a homemade Pumpkin Puree, like Alton's. These recipes using fresh pumpkin are a great place to start.
More pumpkin recipes from friends and family:
Napa Farmhouse 1885: Thai Pumpkin and Coconut Soup
Red or Green: Pizza with Red Chile Pumpkin Sauce, Black Beans and Fresh Corn
Devour: Easy Pumpkin Cream Sauce
Feed Me Phoebe: Creamy Vegan Pumpkin Soup
Virtually Homemade: Starbuck's Pumpkin Spice Frappuccino
Weelicious: Pumpkin Cinnamon Rolls
The Lemon Bowl: Healthy Baked Mac and Cheese with Pumpkin
The Heritage Cook: Chile-Pumpkin Hummus
Dishing: Pumpkin Browns/ Pumpkin Hash Browns
In Jennie's Kitchen: Pumpkin Scones
Cooking With Elise: Hearty Pumpkin Pasta
And Love It Too: Paleo Pumpkin Pie Oatmeal
Blue Apron Blog: Baked Pumpkin Stuffed with Millet and Caponata
Dishin & Dishes: Pumpkin Pancakes with Maple Cinnamon Pecan Syrup
Domesticate Me: Harvest Pumpkin Soup with Candied Bacon
The Sensitive Epicure: Pumpkin Panna Cotta with Pumpkin Seed Brittle
Taste With The Eyes: Sweet and Spicy Pumpkin Apple Soup with Dried Fruit, Pine Nuts and Ancho Chile
Creative Culinary: Pumpkin Beer Bread with Pumpkin Butter Spread
More posts from Allison Milam.
Similar Posts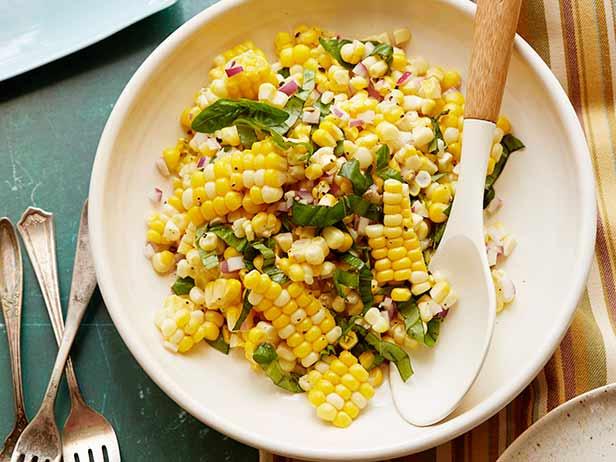 Think beyond the usual presentation of corn with butter and salt....