Given the tartness of crisp apples and the rich smoothness of gooey caramel, these fall flavors shine when they're put together, most often in the form of classic caramel-covered apples. While the tried-and-true recipe is a timeless favorite, Giada takes it to the next level of indulgence in her recipe for Caramel, Chocolate and Candy Apples (pictured above) by coating the apples first in caramel, then drizzling them with melted chocolate and finishing them with crunchy chopped nuts, sweet candies or sprinkles. Kids — and kids and heart — will appreciate being able to build their ultimate dessert with their preferred combination of toppings.
But beyond caramel apples — both classic and creative — there are indeed ways to celebrate these flavors in other decadent treats this autumn. Try Bobby's Caramel Apple Cheesecake (pictured right), a five-star showstopper that delivers wow-worthy results every time. He starts with a buttery graham cracker-walnut crust, then fills it with a vanilla-cream cheese center. But the star of the cheesecake comes in the form of its topping: tender sweetened apples and a brandy-spiked caramel sauce.
Food Network Magazine combines the two ingredients in a light, flaky pastry to create Salted Caramel-Apple Strudel (pictured left). Boasting a timesaving store-bought crust, these golden-brown pockets are filled with sauteed apples laced with homemade salted caramel sauce and crunchy gingersnap cookies. If you've never before combined sweet and savory flavors, like caramel and salt, don't be worried that the flavor will turn out overly savory for a dessert; here the salt complements the richness of the caramel without detracting from its sweetness.
For a party-ready snack that will please both kids and grownups alike, try Food Network Magazine's Caramel Apple Popcorn Clusters (pictured right). They're simple-to-make munchies that combine dried apple chips, freshly popped popcorn and from-scratch caramel. The secret to making caramel is watching the temperature closely. It's best to use a candy thermometer, so you can easily gauge when the mixture reaches 280 degrees F — only then will it be ready to work with. To form these treats, use spatulas to gently toss the popcorn with the apple chips and caramel, then divide into tiny bunches.
Visit Food Network's Halloween headquarters for more recipes and easy entertaining ideas for hosting your own fright-night bash.
More posts from Maria Russo.
Similar Posts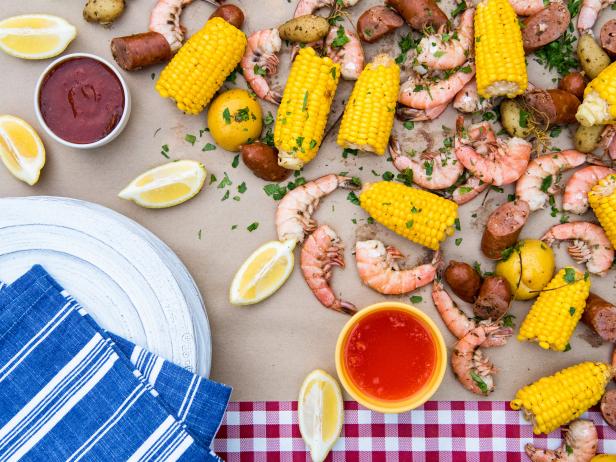 Have friends over — or embrace leftovers — with these Food Network recipes that feed more than four. ...