While some jarred products (think ketchup and mustard) may indeed be best enjoyed straight from their store-bought bottles, applesauce isn't among them, as it's both simple and quick to make from scratch. All it takes to prepare a batch is a few crisp apples and a pinch of sugar, plus butter for richness and a bit of citrus; from there, you can dress up your recipe with warm spices, like cinnamon, or a glug of liqueur. Check out Food Network's top-five applesauce recipes from Ina, the Neelys, Alton and more Food Network chefs to find classic and creative ways to turn autumn's bounty of apples into a comforting seasonal dish.
5. The Neelys' Homemade Applesauce — For added apple flavor in their 25-minute recipe, the Neelys stir apple cider into their simple mixture of fruit, brown sugar and cinnamon sticks.
4. Plum Applesauce — Juicy red plums add both color and sweetness to this big-batch applesauce, easily prepared in a rice cooker in just one hour.
3. Roasted Pork Loin with Cider and Chunky Applesauce — Since her applesauce will be served with a garlic- and herb-rubbed pork loin and tender sauteed onions, Anne creates what she calls a "sweet/savory applesauce," made with the pan drippings from the roast, plus crunchy walnuts and a splash of heavy cream.
2. 10-Minute Applesauce — To ensure speedy results, Alton relies on the microwave to quickly soften the fruit in his cognac-infused applesauce, sweetened with honey instead of sugar.
1. Ina's Homemade Applesauce — The key to achieving a blush color in Ina's fuss-free applesauce is baking the apples with a few peels of red skin, which release their color and lightly tint the final dish. She prefers her sauce on the chunky side, so a simple stir after baking is all it takes to break down the apples. Click the play button on the video below to watch Ina make this go-to recipe.

More posts from Maria Russo.
Similar Posts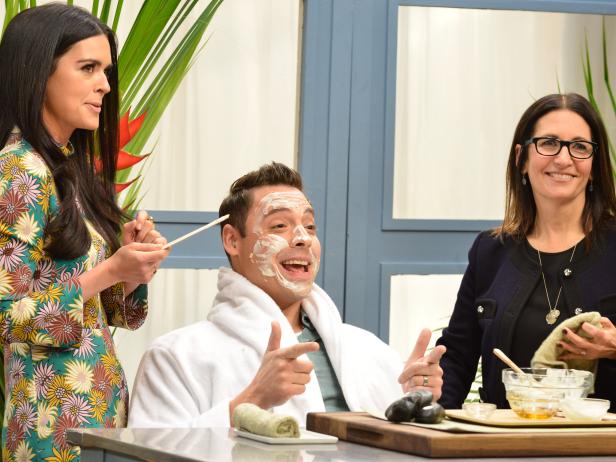 You don't have to travel somewhere exotic to make the most of your time off....