He may be a famed food-science guru, the longtime host of Iron Chef America and a revered judge-mentor on Food Network Star, but for the first time, Alton Brown is stepping out of the kitchen and designing something other than food. In partnership with hook + Albert, a brand specializing in men's accessories, Alton's launched an all-new line of bow ties called The Alton Brown Collection.
"Basically, these are ties I wanted for myself but couldn't find," Alton told Food Network of his idea to begin this venture. He's been a frequent wearer of bow ties for years, but until now, they've been designed and styled by others. This look, however, is wholly his own.
Pieces of The Alton Brown Collection include neutral-colored blacks and whites, plus bright hues like blues, oranges and reds, but what makes the bow ties unique is their patterns and textures. They feature a mix of stripes, specks and plaids, and all come together in harmonious looks. "They're eccentric but wearable and very clothes-friendly," Alton explains. "What we've done with this collection is hopefully made bow ties that will even appeal to guys who have never given bow ties a thought."
Click on the photo below to check out insider snapshots of the brand-new bow ties in the collection, and take a look back at Alton's top bow-tie moments on Food Network. Then head over to hook + Albert to find out how you can purchase bow ties from The Alton Brown Collection.
Photos courtesy Chris LaPointe
More posts from Maria Russo.
Similar Posts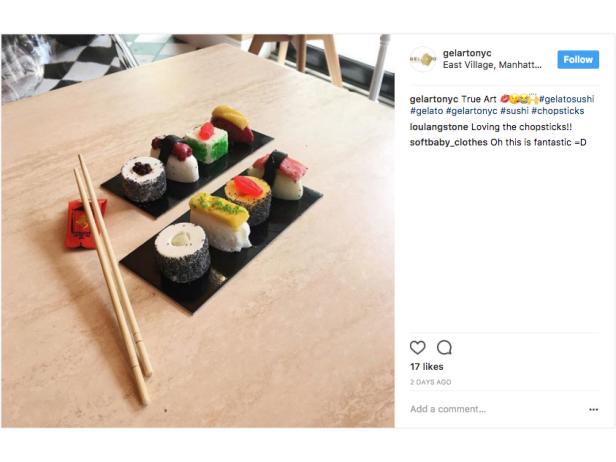 Nothing says summer whimsy like gelato in the shape of pieces of nigiri. ...