If there's any veggie taken for granted, it is undoubtedly the carrot. It's not that we don't eat 'em. Please, we down carrots by the bagful — so often, in fact, that we might forget the veggie's possibilities with all of our mindless munching. Here we go beyond the slick, shrunken realm of the baby carrot by zeroing in on bold preparations. These recipes take carrots by their roots, evolving snack time's favorite veggie by rethinking the many, many forms it can take.
1. Shaved: For a fresh salad that leaves the leaves of lettuce behind, all you need is a vegetable peeler. Food Network Magazine's Carrot-Cashew Salad shaves and transforms carrots into ribbons of ethereal crunchiness.
2. Pureed: Switch up your little tubs of packaged apple sauce for Tyler Florence's Carrot, Mango and Apple Puree for Food Network Magazine. Just roast, puree and snack.
3. Pickled: Pickled Dill Carrots by Food Network Magazine inject the root veggies with zesty acidity, perfect for munching right out of the jar.
4. Marinated: Marinate carrots in fruit, a la Food Network Magazine's Cranberry-Glazed Carrots, for a boost of tart sweetness and killer color.
5. Mashed: Sayonara, white mashed potatoes. Let your food processor take your crunchy carrots to creamy, mashed perfection with this Carrot Mash recipe by Food Network Magazine.
6. Herbed: Experimenting with interesting herbs makes even the simplest carrot recipe a stand-out. Food Network Magazine suggests a Middle Eastern spice blend for rustic Roasted Carrots with Za'atar.
7. Juiced: We're not proposing a juice diet. Instead, use carrot juice as the broth base of your favorite soups and stews, like Carrot-Mushroom-Barley Soup by Food Network Magazine.
8. Shredded: Whip out your grater to bring carrots to your sandwiches, hot dogs, burgers and more. Food Network Magazine's Carrot Relish is tangy with citrus and cider vinegar.
9. Fried: French-fried potatoes have had their time on the throne. Giada's Carrot Fries with Lemon Mint Dip are dusted in panko breadcrumbs and fried till crispy.
10. Chopped: We're always game for marinara, but Food Network Magazine's recipe for Angel Hair Pasta with Walnut-Carrot Sauce (pictured above) introduces a take on pasta that's nutty, crunchy and comforting.
More carrot recipes from friends and family:
Feed Me Phoebe: Carrot Cake Pancakes
Napa Farmhouse 1885: Fresh Carrot, Banana and Peach Smoothie
Red or Green: Honey Glazed Roasted Carrots with Cayenne Pepper
And Love It Too: Carrot Cake Blondies with Cinnamon Coconut Butter
Virtually Homemade: Easy Carrot Torte
Made By Michelle: Carrot Apple Bread
In Jennie's Kitchen: Carrot Persimmon Cake
Devour: Roasted Carrots with Cumin and Coriander
The Sensitive Epicure: Chimichurri Carrots
Domesticate Me: Carrot Cake Whoopie Pies with Maple Cream Cheese Frosting
The Heritage Cook: Roasted Maple Dilled Carrots and Shallots
FN Dish: 10 New Ways to Devour Carrots
More posts from Allison Milam.
Similar Posts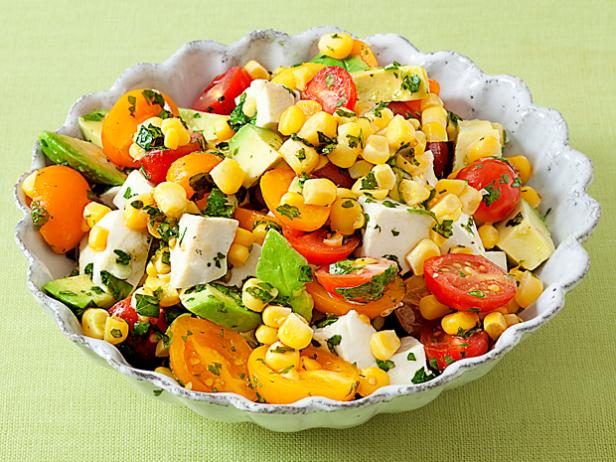 When it's too hot to cook, look no further than these tomato-focused recipes....