The next stop on Episode 5 of The Great Food Truck Race was a turning point for the four remaining food trucks. This was the chance for those who'd perpetually been in the middle or in the bottom to break out of their rut. But the Twin Cities of Minneapolis and St. Paul proved to bring double the difficulty the teams had expected. Tyler promised the teams wouldn't have a Speed Bump on day one, but he ended up springing a Truck Stop challenge on them, one that none of the teams were able to accomplish. On day two, another Truck Stop was much more attainable for all the teams but one, leading to its elimination.
Twin Truck Stops saw the teams cooking up foods to cater to local Minnesotans' tastes, which in Minneapolis meant food on a stick and in St. Paul was cooking with the infamous Spam. The teams didn't count on the rainy weather putting a damper on sales, but it did, and day one proved to be a bust for everyone concerned. Day two was the turning point Tyler had alluded to, and it resulted in success for just three teams, who would move on to the next city. Only $1 separated the top two teams, but more than $1,000 separated the bottom two, Philly's Finest Sambonis and The Slide Show. In the end, The Slide Show faced challenges that were too difficult to conquer.
FN Dish caught up with the members from The Slide Show to chat about their time on the show.
Coming from working in restaurants, how different was it adapting to a food truck?
The work space is much tighter in a food truck, and you have limited supplies and equipment.
How surprised were you by Tyler's Truck Stop challenge on Saturday? Did you ever think that it would turn out the way it did, with no team making the sales goal?
We weren't surprised at all. We were expecting the unexpected as we got farther along in the race. It wasn't surprising that no one made the sales goal because $1,500 is a massive amount of money for food on a stick.
In both Minneapolis and St. Paul, your team struggled to bring in a high volume of customers. What do you think was the biggest issue there?
The weather was a big issue. The rain definitely killed our foot traffic.
At elimination, Tyler revealed that only $1 separated two of the four remaining teams. What was going through your minds when you heard that?
We were excited! We thought that meant we still had a chance, and we could have easily earned one more dollar than the losing team. But when Tyler said that the $1 separation was between the top-two teams, we knew we were in trouble.
Now that the race is over, what's next for you all? Are you considering operating a food truck or going back to the restaurant world?
We want to own and operate a food truck along with a brick-and-mortar restaurant.
What's the biggest thing you've learned from doing the competition?
Das: The competition was a lot more about strategy than cooking and making good food. It's a strategy-based competition where food comes secondary, and that's the crazy part!
Moe: I learned how to manage my time better and work faster.
Ahren: I gained a much greater respect for food truck operators, and this competition show further confirmed that with God I can do anything I put my mind to. Being on The Great Food Truck Race pushes you to be a better chef and person, and I am so thankful and blessed to have gotten the opportunity to be on the show.
Watch The Great Food Truck Race on Sundays at 9pm/8c, and keep coming back to FN Dish for exclusive interviews and behind-the-scenes content.
More posts from Joseph Erdos.
Similar Posts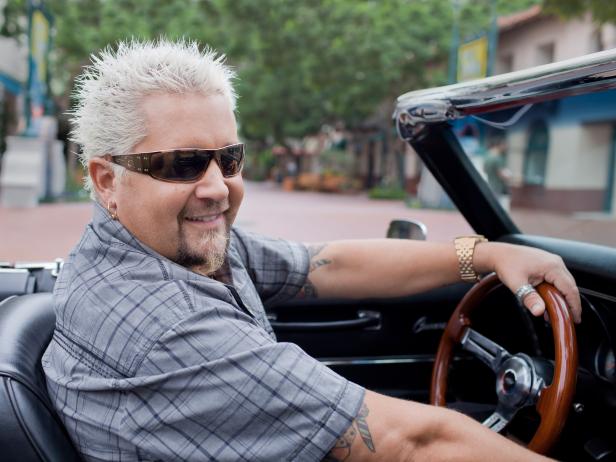 Get the first look at Guy Fieri's upcoming series, Guy's Family Road Trip....