This week, FN Dish is trading in the grill-kissed ears of corn and pitchers of iced tea for the comforting dishes of early fall. And, hey, who's complaining? To ring in the crisp air, pumpkin lattes and all that screams fall, we're turning to the potato to reintroduce our favorite seasonal recipes.
As an ingredient, the potato straddles the line between french fry and mashed potatoes, so it's the perfect ingredient to usher us into these first days of fall. Each of these potato dishes will remind you of all that we've been missing. Many are rich — and all are comforting.
When pureed, potatoes make for a mean soup. Smooth and filling, Ina's Roasted Potato Leek Soup is nice and elegant, and it works as the idyllic dinner party starter. Food Network Magazine's Curried Sweet Potato Apple Soup is perfect for a special family meal, especially during those first few weeks of the school year. As for Alton's Leftover Baked Potato Soup, leftover baked potatoes are reborn in a soup that's silky, luxurious and super rich.
Food Network Magazine's got a slew of fried potato recipes, each reminiscent of the iconic large fry — but with a fall-leaning twist. Crispy Garlic-Sage Fries are herby and addictive, and Spicy Sweet Potato Fries are wedges of subtly sweet, spiced goodness.
Dust off those casserole dishes, folks. Tonight, Tyler Florence's Scalloped Potato Gratin is crisp on top and creamy in the middle. For those who prefer a spin on scalloped, Bobby's Smoked Chile Scalloped Sweet Potatoes are a three-ingredient dream. Rachael's Autumn Potato Gratin (pictured above) proves a lovely induction into fall, with its colorful usage of red-skinned, purple and fingerling potatoes. Lastly, Rachael's creamy Sweet Onion Potatoes au Gratin will become a family favorite in no time.
For families looking to experiment, Food Network Magazine's Curried Potatoes and Chickpeas are exciting and flavorful, with the same comforting vibe as a dollop of butter-and-cream mashed potatoes.
Let's end with something sweet. Tyler Florence's Whipped Sweet Potatoes and Bananas with Honey may not end the meal per se, but the integration of bananas, honey, dark brown sugar and pecans makes it a honeyed side for sure.
Get more potato recipes from friends and family:
Blue Apron Blog: Red, Orange, Purple and White: Your Guide to the Potato Rainbow
The Heritage Cook: Fully Loaded Green Chile Potato Skins
Devour: 5 Ways to Prepare Sweet Potatoes
Feed Me Phoebe: Basque Tuna Stew with Peppers and Potatoes
Weelicious: Broccoli Cheese Patties
Domesticate Me: Potato Rosti with Pancetta and Mozzarella
The Sensitive Epicure: Salt Encrusted New Potatoes with Mustard-Mayo Dip
Napa Farmhouse 1885: Sweet Potato and Russet Pancakes with Chipotle Mayo
Red or Green: Roasted Sweet Potato Fries
And Love It Too: Sweet Potato Souffle
Taste With The Eyes: Ensalada de Papas a la Huancaina (Peruvian-Style Salad with Potato Cake, Egg and Yellow Chile)
What's Gaby Cooking: Parmesan Roasted Potatoes
Dishin & Dishes: Southern Green Beans and New Potatoes
More posts from Allison Milam.
Similar Posts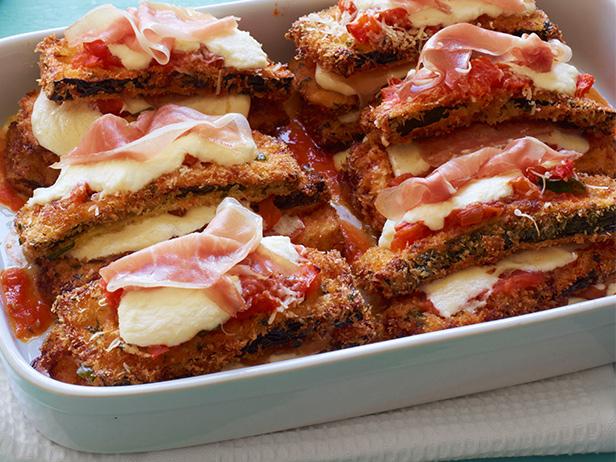 If you too are facing an overflow of zucchini at your house, look no further than these recipes to put the veggies to good use....