On this past Sunday's episode of The Great Food Truck Race, the three remaining teams rode into the Windy City and discovered that all three of them would be making it into the finale, which started right away. Day one began with a Truck Stop challenge, which had the teams cooking deep-dish pizzas for Mayor Rahm Emanuel. In a second Truck Stop challenge on day two, the teams sold Chicago-style sausages that were provided by Mike Ditka's restaurant and later met the NFL Hall of Famer himself. Only one team won the advantage, which was leaving for the next city with a five-hour head start.
When you think of Chicago, deep-dish pizzas and Chicago-style dogs immediately come to mind, but Chi-Town has much more to offer in the way of casual eats and fine dining. Just browsing through these listings you'll discover the city's international appeal mixed with Midwest comfort food eateries. And of course there are those restaurants whose claim to fame is the deep-dish pizza or Chicago-style dog. FN Dish has rounded up a sampling of the endless eating opportunities from Food Network's On the Road guide. Check them out below.
At Hoosier Mama Pie Company, you'll want to have the Fat Elvis Pie. It has a graham cracker, peanut and pretzel crust, filled with chocolate, peanut butter and bananas.
It's the impeccable steak that draws celebrities and Chicago locals here in droves. Gibsons is the only restaurant group in the nation to hold its own USDA Prime Certification.
Glenn's Diner steps outside the diner norm with a menu boasting 16 different kinds of fish (including a few straight from Hawaii). They also do breakfast their own way, offering more than 25 different kinds of boxed cereal.
Chef Rick Bayless is known for his mastery of Mexican cuisine, and his carne asada, which has no less than 16 ingredients, is to die for, as are his Yucatecan ceviches.
Visit Eli's Cheesecake Company just to try their Blood Orange Champagne Cheesecake made with citrus and wine. You'll never look at cheesecake the same way again.
Chef Harry Kempf has brought classic and comforting German dishes from his homeland to Chicago. Try his tender sauerbraten and rindsrouladen, a beef roll. Loyal customers come for the liver dumpling soup and to listen to the live polka band.
Known as the birthplace of deep-dish pizza, Pizzeria Uno offers signature Chicago-style pizzas. Try the Numero Uno, a combination of sausage, peppers and onions baked in a pizza layered with melted mozzarella and crushed tomatoes.
Visit Cemitas Puebla for a rare breed of sandwich and a taste of Mexican history. This restaurant is the only one of its kind in Chicago serving cemitas, authentic poblano sandwiches made on sesame seed rolls slathered with avocado and chipotle adobo, then stuffed with meaty fillings.
This Puerto Rican restaurant is the birthplace of the "jibarito," a combination of savory steak or pork, melted cheese, crisp romaine lettuce, tomatoes, mayo and garlic, all sandwiched between two flattened, deep-fried plantains.
As a wine bar, Avec's entrees and small plates echo the wine-growing region of Southern France. The chorizo-stuffed medjool dates with smoked bacon have become an iconic cult dish, and the focaccia with Taleggio isn't far behind.
Besides offering Swedish cookies and coffee cakes, Swedish Bakery also sells dozens of in-house made European and American culinary confections.
Local Chicagoans know The Wiener's Circle for their signature Chicago-style hot dogs.
Peruvians and Chicagoans both head to Taste of Peru for authentic chicken tamales, Anticuchos (beef heart kebabs) and Lomo Saltado.
The Parthenon in Chicago claims to be the restaurant that popularized the gyro in the United States, so it's no surprise that locals love the spit-roasted lamb and beef with tzatziki sauce. Another specialty is the Flaming Saganaki, which is kasseri cheese flamed in brandy.
You can't get more Honky Tonk than the Memphis in May award-winning pulled pork that's served at this Chicago championship-BBQ eatery. From St. Louis spares to baby backs to the big beef short ribs, they're serving up real-deal slow-cooked barbecue with three signature sauces.
Find more recommended restaurants in Chicago with Food Network On the Road.
More posts from Joseph Erdos.
Similar Posts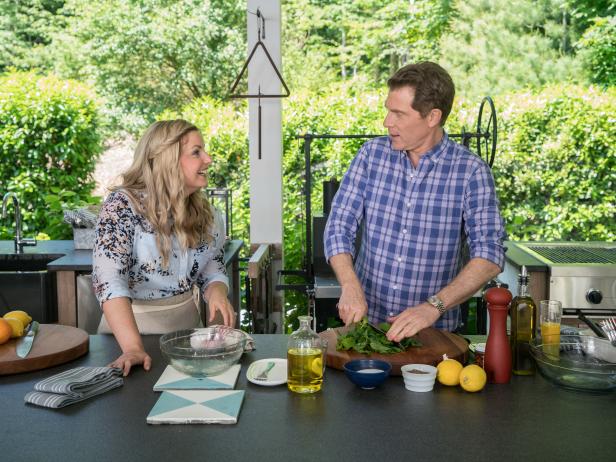 Get the latest details on the all-new series, The Bobby and Damaris Show....