Now that fall is officially here, the days are getting shorter and the nights chillier, which means it's once again time to welcome warm, comforting soups to the table. Instead of sticking with everyday chicken noodle or the usual blend of broccoli and cheddar, take advantage of fall produce by opting for butternut squash soup. This autumn superstar vegetable is packed with good-for-you vitamins, and when it's roasted and pureed into a silky soup, the results are creamy and satisfying — ideal for simple lunches and make-ahead dinners alike. Check out Food Network's top-five recipes below for butternut squash soup to find classic and creative bowls from some of your favorite chefs, like Ina, Giada and Alton.
5. Roasted Butternut Squash Soup and Curry Condiments — The star of Ina's curry-scented squash-apple soup is a toppings bar featuring fresh scallions, sweetened coconut and crunchy cashews.
4. Butternut Squash Soup with Fontina Cheese Crostini — Finished with a slice of cheesy toast, Giada's smooth puree is made extra flavorful thanks to sauteed garlic, carrots and onions, plus chopped fresh sage leaves.
3. Butternut Squash Soup with Chipotle Cream — For a smoky flavor and a hint of spice in her soup, Marcela relies on chipotle chiles in adobo sauce, but she balances the tang by combing them with cool sour cream drizzled atop each bowl before serving.
2. Squash Soup — Start with tender baked squash, add to it honey, ginger and a splash of cream, then puree it to create Alton's rich mixture in less than an hour. Click the play button on the video below to watch him make it.
1. Squash Soup in Pumpkin Bowls — Equally impressive in presentation and flavor, this quick-to-make soup (pictured above) is ladled into hollowed-out roasted pumpkins or acorn squash and dotted with pumpkin seeds, croutons and fried onions for crunchy texture.

More posts from Maria Russo.
Similar Posts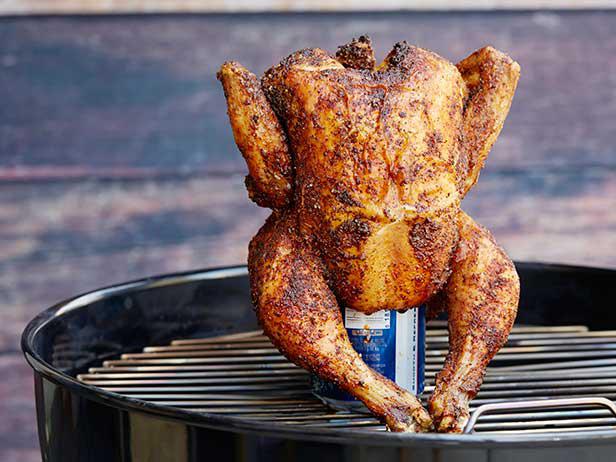 This clever grilling technique is easy enough to perfect even on your first try making it....