Beets may be available year-round, but there's good reason to hoard each ruby-red root this month. Sure, these magenta beauties are known for their pronounced health benefits, but that's not why we eat them. Beets have a profound, earthy sweetness that takes some thought to tease out, and from June through October, you can bet that beets are at their most tender state.
This season, breathe life into your beets by balancing the sweetness with a dose of unanticipated acidity. Whether you use sour fruit to make a marinade or as a full-blown ingredient, a wash of tartness can do a sweet beet some serious good.
1. Balance with Oranges: Fresh oranges do so much for beets. In addition to showcasing the obvious color, Food Network Magazine's Warm Beet-Orange Salad (pictured above) unites supple roasted beets with the citrus fruit's charming acidity. On the other side of the spectrum, its No-Cook Beet-Orange Salad use thinly sliced chioggia or golden beets for a dish that's raw, fresh and invigorating.
2. Amplify with Apples: Food Network Magazine's Beet and Apple Salad is all about crunchy texture. After cutting raw beets into matchsticks, beet eaters should slice crisp apples into thin, manageable slices and combine. Granny Smiths add just the right note of sourness to sweet beets.
3. Drizzle with Lemon: There's no surer way to cut a beet than with a juicy yellow lemon. After roasting beets to intensify the root veggie's innate flavor, Food Network Magazine's Roasted Beets with Lemon recipe employs a simple lemon-sugar vinaigrette to add a tangy edge.
4. Zest with Grapefruit: Not only are these Quick Spicy Pickled Beets transformed with cider vinegar, they're also enhanced with the zest of fresh, aromatic grapefruit. Use them as an unexpected sandwich, hot dog or burger topping.
5. Infuse with Pomegranate: Pomegranate may not add any new color to the plate, but Alex Guarnaschelli's picturesque Marinated Beets with Pomegranate Molasses and Toasted Pepitas recipe brings an intricate sweet-and-sour note. You can make your own pomegranate molasses at home by reducing pomegranate juice, or buy it at a local specialty store.
Get more beet recipes from friends and family:
Jeanette's Healthy Living: Star Anise Ginger Pickled Beets
The Heritage Cook: Rosemary Roasted Beets, Potatoes and Peppers
Dishing: Beetroot Brownies / Beet Brownies
Devour: 4 Beet Salad Best Bets
Napa Farmhouse 1885: Beet Greens with Balsamic Glazed Beets
Red or Green: Sweet and Spicy Roasted Beet and Bacon Salad
Virtually Homemade: Beet Risotto with Goat Cheese
Domesticate Me: Ginger-Soy Glazed Salmon with Asian Beet Slaw
Dishin & Dishes: Roasted Beet Salad with Garlic Vinaigrette
Taste With The Eyes: Shrimp, Beet, Raspberry, Radicchio and Rose Salad
Weelicious: Red Beet and White Bean Hummus
FN Dish: 5 Ways to Brighten Beets
More posts from Allison Milam.
Similar Posts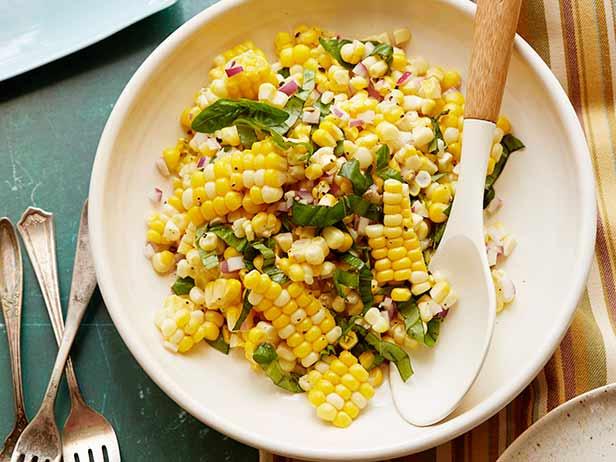 Think beyond the usual presentation of corn with butter and salt....