You know when you have a good batch of grapes on your hands. Each sphere of green or red deliciousness is firm — never bruised — and comes down with an almost audible burst before flooding your mouth with sweet, tart lusciousness. They typically require little intervention; we'll pop 'em straight from the fridge or zip them into baggies for easy eating.
Well get this: Grapes are perfectly in-season right now, so they're extra crispy and juicy. With this in mind, FN Dish is ringing in Wednesday by showcasing some seriously grape-forward recipes. This time, grapes go way beyond PB and J with the crusts cut off.
Let's face it, grapes are meant to mingle with cheese. Food Network Magazine's recipe for Sweet Roasted Grapes simmers the fruit in honey until syrupy, keeping the spherical texture of grapes for a different cheese mate. Next, Food Network Magazine's Grape-Walnut Conserve is bright and zesty when smeared on a cheese-donned baguette, especially with its merging of orange zest, raisins and lemon. And though tapenade is typically made of chopped or pureed olives to spread on bread, Food Network Magazine turns to fresh, juicy grapes for a sweet Cheese Plate with Grape Tapenade that's fit for the most elegant dinner party.
Playing off the sandwich of everyone's childhood, Peanut Butter Crackers with Glazed Grapes are swiped with soft cheese and studded with a halved glazed grape.
Grapes even find their way into our main dishes. Ellie Krieger's Spiced Chicken and Grape Skewers recipe ensures that each morsel of chicken is countered with a pop of juicy fruit. And serving couscous alongside Food Network Magazine's Roast Chicken with Grapes (pictured above) makes for a well-rounded, grape-filled meal.
Now let's get down to dessert. Simmering red grapes with blackberries and sugar creates a luxurious, syrupy mixture perfect for your next scoop. Spoon it over vanilla ice cream for Food Network Magazine's Blackberry-Grape Sundaes. Alex Guarnaschelli's Warm Grape Cake recipe for Food Network Magazine combines fresh red grapes and shriveled golden raisins for a confection that's as grape as it gets.
The Neelys' Frozen Grape Sangria recipe for Food Network Magazine keeps things functional: Pop green grapes into the freezer to be used in lieu of ice cubes. And keeping with the theme of refreshment, Bobby Flay's Vodka Grape Sparkler — made with rose sparkling wine — is best fixed by the pitcher.
Get more grape recipes from friends and family:
Jeanette's Healthy Living: Kale, Grape and Ginger Lemon Juice
The Heritage Cook: Chicken Breasts with Fresh Grape-Wine Reduction Sauce
Napa Farmhouse 1885: Roasted Grapes with Balsamic Drizzle
Red or Green: Grape and Tomato Salsa
Virtually Homemade: Grape Sorbet
Weelicious: Frozen Grapes
The Sensitive Epicure: Green grapes, Drunken Goat Cheese and Jalapenos on a Toothpick
Domesticate Me: Gingered Grape Cocktail Granitas
Made by Michelle: Quinoa with Grapes, Figs and Caramelized Onions
Taste With The Eyes: Chevre Chaud with Grape Arugula Salad, Limoncello Dressing
Devour: Grape-Filled Desserts
FN Dish: 10 Grape-Forward Recipes
More posts from Allison Milam.
Similar Posts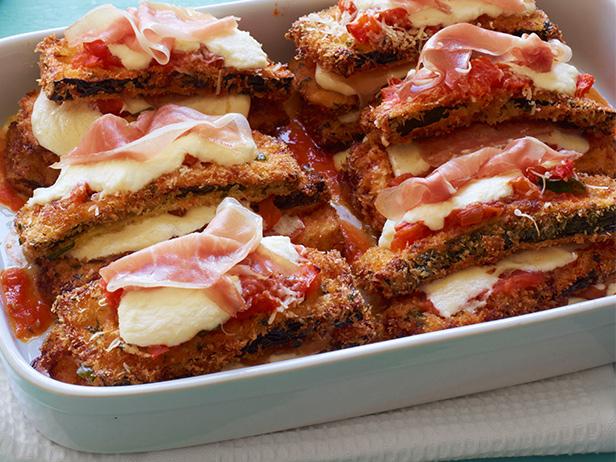 If you too are facing an overflow of zucchini at your house, look no further than these recipes to put the veggies to good use....