If you ask FN Dish, red, yellow and green peppers do much more than add color to your plate. With crunchy thick walls and a juicy-sweet disposition, the hollowed-out veggies are meant for stuffing: with grains, meats, veggies or all of the above. These smooth-skinned beauties are not only brimming with antioxidants, they also invite a slew of possibilities.
This week, perfectly in-season bell peppers have every reason to make it to your table — especially when they're bursting with all kinds of good things. Need some inspiration for your next stuffed sensation? FN Dish has you covered.
Giada adds an Italian flair to her Orzo Stuffed Peppers by using the short-grain pasta, while her Stuffed Baby Peppers — with pancetta, ricotta and Parmesan — work as creamy bite-size appetizers.
Chile Rellenos, Spanish Stuffed Bell Peppers, Greek-Style Stuffed Peppers and Food Network Magazine's Cajun Stuffed Peppers each stay true to their roots while remaining unanimously satisfying.
Merging lean protein with healthful bell peppers is good in all the right ways. Food Network Magazine's Turkey and Rice Stuffed Peppers (pictured above) encase lean ground turkey, part-skim mozzarella, feta and rice donned with a homemade tomato sauce.
Put leftovers to use with Food Network Magazine's Ragu-Stuffed Peppers or try out Crab and Prosciutto-Stuffed Peppers for a surf-and-turf statement.
Stuffing your peppers with couscous makes for a satisfyingly wholesome dish. Giada's Couscous-Stuffed Peppers with Basil Sauce feature pops of sweetness from dried currants, while Sweet and Sour Couscous-Stuffed Peppers are sweet through and through.
Peppers come with loads of health benefits on their own, but these Lightened-Up Stuffed Peppers by Food Network Magazine take it further with brown lentils, rice and ultra-lean beef.
Seriously, we can't get enough of bell peppers this season, whether they're stuffed, roasted or munched on raw.
More pepper recipes from friends and family:
Jeanette's Healthy Living: How to Use Bell Peppers Six Ways
Feed Me Phoebe: Spanish-Style Shrimp and Squid Skewers with Red Pepper Sofrito
The Heritage Cook: Poblano Pepper, Corn and Potato "Chowder" Salad
Dishing: Bell Peppers Chutney/ Capsicum Chutney
The Lemon Bowl: Avocado, Black Bean and Red Pepper Salsa
Weelicious: Bell Pepper Egg Flowers
Dishin & Dishes: Chicken, Poblano, Spinach and Mushroom Quesadillas
Domesticate Me: Brown Rice Jambalaya with Shrimp, Chicken Sausage and Bell Peppers
Taste With The Eyes: Cheeseburger Bloody Mary with Cherry Peppers and Pickles
Blue Apron Blog: Roadside Noodles with Bell Peppers, Tomatoes and Broccoli Raab
Napa Farmhouse 1885: Italian Pork Chops with Peppers and Chiles on Buttered Egg Noodles
Red or Green: Green Chile Pork Stew
Devour: Stuffed Peppers 5 Ways
Chez Us: Grilled Eggplant and Carmen Pepper Pizza
Daily*Dishin: Marinated Peppers and Shrimp New Orleans Style
More posts from Allison Milam.
Similar Posts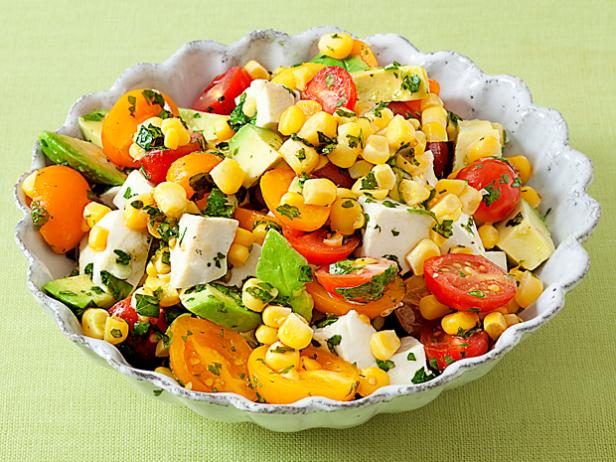 When it's too hot to cook, look no further than these tomato-focused recipes....