Gone are the days of shriveled, dried figs — at least for now. The plump, sweet orbs — actually flowers inverted into themselves — are now lusciously in-season, meaning they're ready, willing and able to make your table's acquaintance.
But there's a catch with figs: Supple, soft and picked when ripe, the fruit is as fragile as a porcelain vase, and the journey home from the grocery store is enough to leave your little figs burst and bruised. Leaving them on the counter for a day or two also reveals the fruit's intense perishability. The moral of the story: One must act fast when fleeting figs are involved.
With this looming expiration date in mind, FN Dish rounded up the ways to cook and bake figs into our favorite recipes. That way, they'll disappear as they should.
When the alarm goes off, Food Network Magazine's Nutty Fig Toasts are your only fighting chance of getting out of bed — yes, Monday too. The multigrain toast, ricotta cheese, roasted nuts and cushy fruit are steps above the cereal bowl.
As for lunchtime, Sandra Lee's Double-Decker Grilled Cheese for Food Network Magazine splays figs — both fresh and preserved — on the updated grilled favorite, with fig preserves on the side.
For a fig-laden main, Bobby grills his Flatbread with Fresh Figs. Rich in Monterey Jack, blue cheese and reduced red wine vinaigrette, the end result is tangy and bold.
Extend fresh, ripe figs with Food Network Magazine's Fig-Ruby Port Preserves, a deeply sweet spread that only intensifies when served with prosciutto, goat cheese and crackers. For another stellar appetizer, the magazine's recipe for Mustard-Onion Jam Crackers with Figs juxtaposes zesty sweet-hot German mustard with the sweet fruit.
Make Food Network Magazine's Glazed Figs (pictured above) a day ahead for an elegant, fruity side for deep summer. To glaze, fresh figs are cooked low and slow in red wine and brown sugar until soft and sumptuous.
For his Grilled Honey-Orange Figs with Mascarpone and Pistachios, Bobby skewers fresh figs and lays them on the grill till they caramelize. Giada's Fig and Almond Tart is simple and rustic, with a foundation of mascarpone cheese and almond paste. She melts apricot jam on top of the tart's figs for a glossy, ambrosial finish. And for the sweetest ending note, forget the cherry. Food Network Magazine's recipe for Roasted Fig Sundaes crowns a scoop of vanilla with a luxurious honey-roasted fig.
More fig recipes from friends and family:
Feed Me Phoebe: Gluten-Free Cheesecake with Fresh Figs and Honey
Jeanette's Healthy Living: Roasted Fig Greek Yogurt Chai Spiced Sorghum Parfait
Devour: A Perfect Pairing of Figs and Pizza Dough
Napa Farmhouse 1885: Fig and Grand Marnier Jam
Red or Green: Roasted Fig, Beet and Orange Salad with Maple Syrup and Jalapeno Vinaigrette
Dishing: Fig Lassi (Fresh Fig Yogurt Smoothie)
Weelicious: Homemade Fig Bars
Virtually Homemade: Fig and Plum Crostata
The Sensitive Epicure: Figs with Goat Cheese, Honey, and Thyme
Domesticate Me: Flatbread with Fresh Figs, Prosciutto and Goat Cheese
Taste With The Eyes: Frozen Fig with Rose, Almond and Rosemary
Daily*Dishin: Fresh Figs with Lemon Cream
FN Dish: Go Big with Fleeting Figs
More posts from Allison Milam.
Similar Posts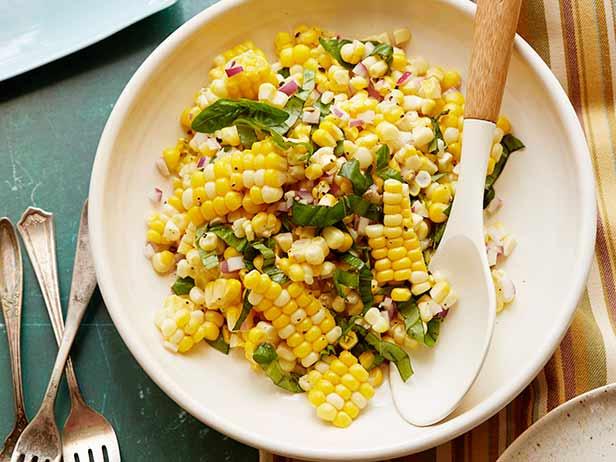 Think beyond the usual presentation of corn with butter and salt....