It's the vegetable to be gushed over at brunch and the one worth of recipe swapping at book club. And if it's on the menu with the Parmesan descriptor attached, all bets are off — we're ordering it. Sturdy yet tender, filling but wholesome, the eggplant is the king of meatless for a reason.
Though it works as a standup main course, the following dishes speak to eggplant's versatility as we transform it into easy, hand-held starters. Each of these small bites helps to ring in a meal with flair. Call them finger foods, call them bite-size — either way, compact eggplant appetizers are a lovely way to kick off dinner.
To start, Giada's Mini Eggplant Parmesan are reminiscent of the classic dish, though they're not engulfed in tomato sauce and cheese. That way, you can pick them up with your hands for easy eating. Similarly, Food Network Magazine's Eggplant Ricotta Bites (pictured above) are crispy and to the point. Each circle is topped with a dollop of ricotta and a sprinkling of diced tomatoes.
Bet you've never had an empanada like this one before. Eggplant Parm Empanadas stuff all the cheesy tomato goodness into a compact, fork-free form. One bite and you'll have to catch the hot, stringy cheese with your hands.
Hey, if potatoes can do it, you can bet eggplant will too. Food Network Magazine's recipe for Eggplant Chips transforms the Japanese variety into snack form, and dipping each crisp in Eggplant Dip makes for a well-rounded, creamy-crunchy appetizer or snack.
When it reaches a roasted suppleness, eggplant is just begging to be stuffed. Food Network Magazine's Stuffed Eggplant with Walnuts comes filled with bulgur, feta and cilantro, and is sliced into small, manageable pieces.
Serving hummus as a dip may be a go-to entertaining maneuver, but spooning it onto eggplant rounds is an easy step up. These antioxidant-rich Middle Eastern Eggplant Rounds come stacked with prepared hummus, lemon zest and parsley.
When you scoop out the flesh of roasted eggplant, it's hard not to cave in and eat it right then. But push forward for Giada's Calabrese Fried Eggplant, which shapes the roasted flesh into a fried treat reminiscent of meatballs.
In the spirit of seasonality, serve these eggplant apps at your next get-together — no forks necessary.
Get more eggplant recipes from friends and family:
Feed Me Phoebe: Grilled Eggplant with Sumac, Capers and Mint
Jeanette's Healthy Living: Eggplant Pepper Mushroom Turkey Sausage Hash
Chez Us: Baba Ghanoush
Taste With The Eyes: Cold Soba Noodles with Eggplant and Mango
Napa Farmhouse 1885: Eggplant Fritter Burgers with Sriracha Chili Mayo
Red or Green: Roasted Eggplant and Tomato Pasta with Spicy Carrot Top/Basil Pesto
Weelicious: Eggplant Parmesan Sticks
Devour: 5 Takes on Grilled Eggplant
The Sensitive Epicure: Szechwan Eggplant
Domesticate Me: Grilled Eggplant with Fresh Mozzarella, Tomatoes and Basil Vinaigrette
And Love It Too: Roasted Garlic Baba Ganouj
FN Dish: Eggplant, No Forks Necessary
More posts from Allison Milam.
Similar Posts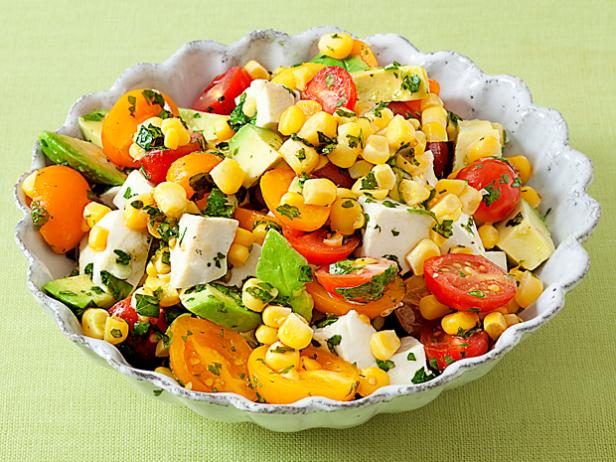 When it's too hot to cook, look no further than these tomato-focused recipes....