When it comes to hosting a backyard cookout, a spread of burgers, barbecue, sides and salads is essential, of course, but so are a few pre-dinner munchies. Having a few easy-to-eat appetizers on hand will ensure your guests are held over until the main dishes are ready and not weighed down in the meantime. While chips and dip may be a go-to classic, you can indeed take your appetizer offering to the next delicious level while sticking with simple, stress-free favorites.
Sunny Anderson's Chicken Flautas with Avocado Cream (pictured above) are top-rated bites that can be prepared in 40 quick minutes. To save time, Sunny starts with a precooked rotisserie chicken to make the filling, featuring the bold flavors of sauteed jalapenos, salsa and garlic, plus cheddar cheese and lime juice. She wraps the mixture in flour tortillas, then deep-fries the flautas until golden brown and crispy, before serving them with a creamy, cool combination of mashed avocados and tangy sour cream.
While kebabs may be a traditional dinner pick, they can start off the meal, as well, especially if you opt for miniature skewers. Giada's Beef Pops with Pineapple and Parsley Sauce are threaded with bite-size chunks of herb-marinated beef and juicy pineapple before being grilled and finished with a parsley-garlic topping. Prefer chicken instead of beef? Try Sandra's Margarita Chicken Skewers, a five-star recipe boasting the tried-and-true taste of your favorite summer sipper. The secret to Sandra's recipe is in her marinade: a mixture of frozen margarita mix, tequila and cilantro.
Appetizer: Chicken Flautas with Avocado Cream (pictured)
Main Dish: Texas Dog
Side Dish: Red Cabbage Slaw
Dessert: Ice Cream Sandwiches
Cocktail: Coconut Mojito
This summer, Food Network's Grilling Central is packed with recipes for the entire family's taste buds, boasting the best in burgers, dogs, chicken and more all season long. But with so many recipes, where do you start? Each weekend, FN Dish is giving you a complete fuss-free menu.
More posts from Maria Russo.
Similar Posts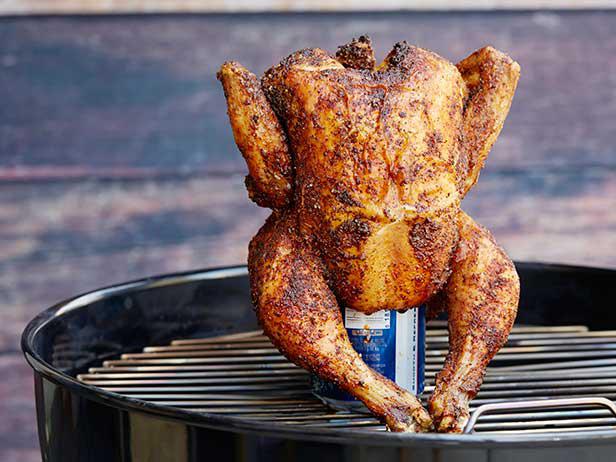 This clever grilling technique is easy enough to perfect even on your first try making it....