One of the easiest and most versatile grilled dishes you can make, kebabs are the ultimate family-friendly dinner because they can be built to each person's individual tastes without trouble, and they take just a few minutes to prepare. If you're cooking for both die-hard meat eaters and vegetarians, simply skip the beef, chicken or fish, and stick with vegetables alone for some of the kebabs. Little ones, however, may likely appreciate kebabs without any veggies at all, choosing instead simply grilled chicken or steak alone. In both cases, the kebabs will turn out hearty, seasonal dinners that are easy to prepare on a weeknight but satisfying enough to entertain with. When making kebabs, it's up to you to decide whether to use wooden or metal skewers; just keep in mind that if you opt for the wooden variety, you'll need to soak them in water before stringing on the ingredients. The liquid will help prevent the wood from flaring up and ultimately disintegrating on the grill. Check out Food Network's top-five kebab recipes below to find five-star dinner inspiration from some of your favorite Food Network stars, like Ted Allen, Melissa, the Neelys and Tyler.
5. Thai Beef Skewers with Pickled Cucumbers — Soy sauce, mirin and rice vinegar come together to do double duty in Ted's easy recipe: The sweet and salty mixture is both a marinade for the beef and a dipping sauce for serving.
4. Fish Skewers with Basil Chimichurri — Melissa prefers to use a firm white fish, like cod, haddock or halibut, to make these herb-topped skewers, strung with seasonal zucchini and cherry tomatoes.
3. Sweet-and-Sour Shrimp Kebabs — Instead of brushing the shrimp with the tangy peach-chili sauce and then cooking them, Pat and Gina reserve the mixture for dipping later, as its sugars have a tendency to burn on the grill.
2. Chicken and Pineapple Skewers — Start by making a bold barbecue sauce featuring ketchup, honey and soy sauce, then use it to coat lean chicken breasts and fresh pineapple in Tyler's simple kebabs.
1. Build-Your-Own Shish Kabobs — The beauty of this recipe (pictured above) is that there's plenty of room for your own taste preferences to shine through. After preparing mustard-rubbed steak, citrus-laced chicken and garlic shrimp, fix a spread of vegetables, like bell peppers, onions and mushrooms, then craft your ultimate kebabs using any variation of the ingredients.
More posts from Maria Russo.
Similar Posts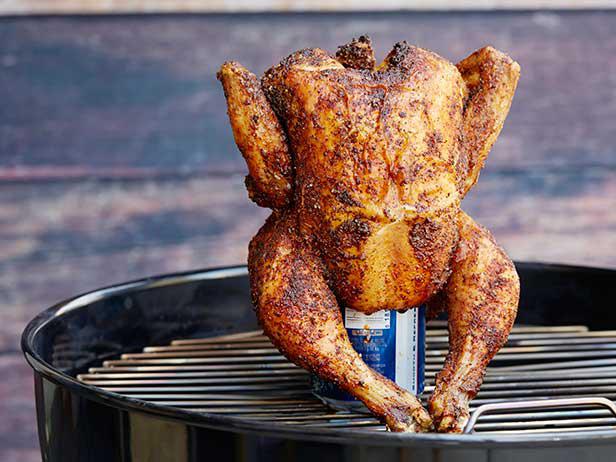 This clever grilling technique is easy enough to perfect even on your first try making it....