Recently FN Dish shared Food Network's top-five grilled chicken recipes for enjoyable summer cookouts, but this week we're focusing on a specialty chicken that deserves the spotlight on its own: beer can chicken. Cooked whole and most often vertically over an open can of beer, these chicken recipes promise meat that's particularly succulent and tender, given that the beer steams the bird while it cooks and infuses it with flavor. While the presentation of beer can chicken is indeed impressive and guarantees wows from party guests, the dish is easy enough to prepare on a weeknight for a go-to dinner. Check out Food Network's best beer can chickens below from Bobby, Guy, the Neelys and more chefs for top-rated recipe inspiration.
5. Beer Can Chicken — When cooking chicken over beer, it's important to start with a half-full can of beer, so that when the brew bubbles on the grill, it doesn't overflow and burn.
4. Beer Can Chicken with Cola Barbecue Sauce — Tangy, sweet and salty all at once, the cola-ketchup barbecue sauce is spiked with Worcestershire sauce and served alongside crispy-skinned chicken.
3. Bobby's Beer Can Chicken — Bobby seasons the chicken with his favorite spice rub, then props the bird atop the beer and smokes it over mesquite wood chips to achieve a deliciously distinct flavor.
2. Big Bud's Beer Can Chicken — Draped with smoky bacon, this garlic-infused chicken from Guy Fieri is roasted in the oven, so it's a must-try, especially for those without a grill.
1. Pat's Beer Can Grilled Chicken — The secret to Pat Neely's golden-brown bird (pictured above) is a bold dry rub featuring smoked paprika, cayenne pepper, dried herbs and cumin. Click the play button on the video below to see how he makes it.
More posts from Maria Russo.
Similar Posts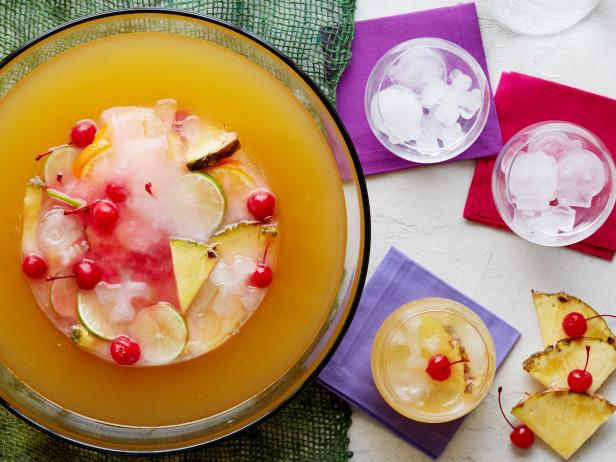 From formal events to backyard barbecues, punch is a party favorite for the ages....