It's odd to think of a day when the avocado's utensil of choice wasn't the tortilla chip. But how many times have you ventured to the produce section with guac on the brain, only to find that the avocados would work better as baseballs? Don't fret — now that avocados are in season, all of your guacamole plans can come to scoopable fruition. And with all of these ripe avocados on hand, FN Dish expands upon the Purist's Guacamole with all kinds of inventive add-ins. We know: If it ain't broke, don't fix it. But these renditions will awe and inspire guests with the very first scoop.
1. Papaya: Add the diced tropical fruit for unexpected texture and sweetness. Food Network Magazine's Spicy Papaya Guacamole cuts sweet with spicy using mashed habanero peppers.
2. Corn: Roasted Corn Guacamole and Food Network Magazine's Southwest Corn Guacamole are literally popping with Southwestern goodness. Broil or roast your corn before sliding the kernels into the guacamole.
3. Peas: Creamy when mashed, peas jive well with creamy avocado — Holy Moly Guacamole is even better when devoured with crunchy veggies.
4. Bacon: If bacon-infused vodka exists, you can bet folding bacon into your guac does as well. This recipe for Spicy Bacon Guacamole calls for crumbled just-crisped bacon and pickled jalapenos.
5. Garlic: It wouldn't be guacamole without garlic, eh? Garlicky Holy Guacamole! takes it a step further by adding freshly minced garlic instead of the powdered stuff.
6. Jicama: Not only is Marcela's Spicy Guacamole with Mango spiked with a fruity mango-chili mixture, it also gains uncommon crunch from diced jicama.
7. Fruit and Nuts: Loaded with dynamic texture, Food Network Kitchens' Pear and Pistachio Guacamole (pictured above) is an extra-special dip. Pile roasted pistachios on top for extra plate-presence.
8. Tomatillo: Known for its fresh acidity, the tomatillo amplifies velvety avocado in a flash. Food Network Magazine's Creamy Tomatillo Guacamole is pulsed altogether in a food processor until extra creamy.
9. Chipotle Peppers: Grab the jarred peppers in adobo sauce for an easy Smoky Guacamole with big flavor.
10. Basil: It's about time this herb crossed cultures. Add fresh, aromatic basil leaves to mashed avocado for a matchless Spicy Basil Guacamole.
There's still more. When it comes to chips, expect nothing less than scoopers like Bobby's Cumin-Dusted Tortilla Chips and Ellie's Chili Tortilla Chips, as well as Cilantro Lime Yucca Chips and Fresh Baked Tortilla Chips.
More avocado recipes from friends and family:
Feed Me Phoebe: Kale Salad with Avocado, Cranberries and Peptias
Jeanette's Healthy Living: Smoked Avocado Tomato Salsa Guacamole
Weelicious: Avocado Honey Dip
Napa Farmhouse 1885: Avocado Green Goddess Dressing
Red or Green: Avocado and Cilantro Pesto with Whole Wheat Penne
Blue Apron Blog: Avocado Tartines with Goat Cheese
Domesticate Me: Summer Salad with Avocado, Corn and Grilled Herb Shrimp
Dishin & Dishes: Creamy Avocado Citrus Dressing, No Cream, No Oil
The Heritage Cook: Summertime Vegetable Stuffed Avocados
And Love It Too: Sugar-Free Avocado Fudgesicles
Haute Apple Pie: Avocado BLT Egg Salad
Daily*Dishin: Colorful Sweet Pepper-Avocado Salsa
Devour: No-Cook Avocado, Shrimp and Mango Salad
Taste With The Eyes: Zucchini "Pappardelle" with Avocado "Cream"
More posts from Allison Milam.
Similar Posts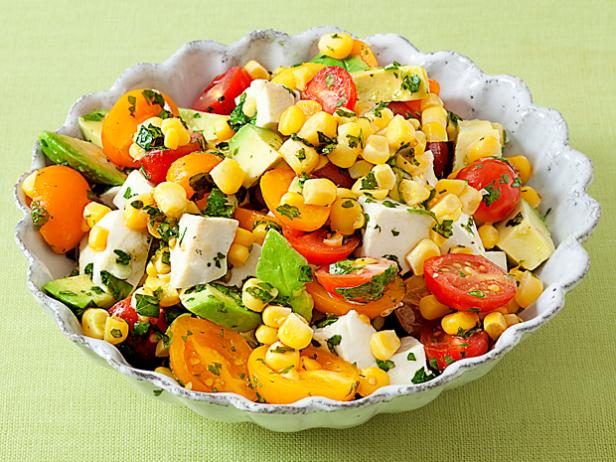 When it's too hot to cook, look no further than these tomato-focused recipes....