This weekend on Food Network it's all about making the best recipes, eating family favorites, uncovering restaurant secrets, creating new twists on the classics and cooking from scratch. All these things make food that's much more exciting to eat because you know you're getting something special.
On Saturday morning, Ree is making her personal best recipes. Then Trisha is in the kitchen with her sister Beth cooking up family recipes. On Barefoot Contessa, Ina's in the city visiting some famous restaurants to learn some of their secrets. Then Giada is making pasta from scratch and turning it into three different dishes.
On Sunday morning, Bobby's putting international twists on classic American barbecue. In the evening, it's a new episode of Food Court Wars, with one team serving Middle Eastern food and one making creative sandwiches, trying to outsell the other in order to win a restaurant space. On Food Network Star, Robert Irvine challenges the remaining finalists to remake failed dishes from a restaurant's menu. And on Restaurant: Impossible, Robert helps a husband and wife — who both dream of retiring debt free — revitalize their restaurant.
The Pioneer Woman: "Simply the Best"
On this episode, Ree's sharing recipes for dishes she thinks are the best ever, including Best Tomato Soup Ever, Best Grilled Cheese Ever, Best Scrambled Eggs Ever and Best Yogurt Parfait Ever.
Tune in: Saturday, July 27 at 10am/9c
Trisha's Southern Kitchen: "Family Recipes"
Trisha and her sister Beth take the opportunity to reminisce about their earliest and fondest food memories. Then the ladies get to cooking a few of their favorite childhood foods, like Gwen's Old-Fashioned Potato-Beef Casserole, collard greens and Iced Italian Cream Cake.
Tune in: Saturday, July 27 at 10:30am/9:30c
Barefoot Contessa: "Fun in the City"
It's another fun day in the city for Ina, who's getting the chance to cook at two famous NYC restaurants. At The John Dory Oyster Bar, she's learning the secret to Oyster Pan Roast with Uni Butter Crostini. And at The Standard Grill, Ina's learning the secrets behind their "Million Dollar" Chicken. Later, Ina takes a stroll on the High Line and meets with the vendor behind People's Pops. Meanwhile, Jeffrey gets a cheese-making course at Beecher's Handmade Cheese. Back home, Ina's mixing up Sidecar cocktails.
Tune in: Saturday, July 27 at 11am/10c
Giada at Home: "Pasta from Scratch"
On this episode, Giada shows viewers how to make good, old-fashioned Italian pasta from scratch. Using the fresh pastas she'll cook three homemade dishes: Creamy Spinach and Mushroom Lasagna, Roasted Tomato Soup with Halibut and Fresh Pasta, and Fresh Fettuccine with Figs, Prosciutto and Goat Cheese.
Tune in: Saturday, July 27 at 11:30am/10:30c
Bobby Flay's Barbecue Addiction: "Grills Gone Wild"
Bobby is putting an international spin on classic American barbecue dishes. He's making a Korean Pulled Pork Sandwiches with Asian Slaw, Curried Lobster Rolls and a Grilled Tuscan Tuna Salad, all served with Watermelon-Mint Iced Tea inspired by his travels to Greece. Get ready for a trip around the world, right from the backyard!
Tune in: Sunday, July 28 at 11:30/10:30c
Food Court Wars: "Oasis vs. Chip-n-Wich"
In Midland, Mich., two teams of friends want to win their own food court restaurant. Melania and Diana want to bring Middle Eastern food to the Midwest with their eatery, Oasis. Jonathan and Craig used to work together at a chain restaurant; now the buddies want to open Chip-n-Wich, offering their favorite sandwiches from childhood. While marketing their openings at a Great Lakes minor league baseball game, the teams encounter a surprise guest appearance with a baseball legend. By the end of their grand-opening day, one team will outsell the other to achieve its dream.
Tune in: Sunday, July 28 at 8pm/7c
Food Network Star: "Menu: Impossible"
A Food Network Star must be able to offer tips and solutions for any culinary situation. Guest judge Robert Irvine leads the finalists on an "impossible" challenge: They must rehabilitate failing or outdated dishes on a restaurant's menu. The least successful finalist is sent home.
Tune in: Sunday, July 28 at 9pm/8c
Restaurant: Impossible: "Benner Street in Bethlehem"
Dorothy and Thom, owners of Benner Street Restaurant in Bethlehem, Pa., should be retiring, but they are so far in debt they may never be able to stop working. This is Dorothy's second attempt at running a restaurant, but it hasn't turned out any better than the first, which left her living out of her car. The restaurant is suffering from outdated decor, a bar that's lacking and a husband/chef with whom Dorothy fights constantly. It's up to Robert to get the couple's restaurant back on the road to success.
Tune in: Sunday, July 28 at 10pm/9c
More posts from Joseph Erdos.
Similar Posts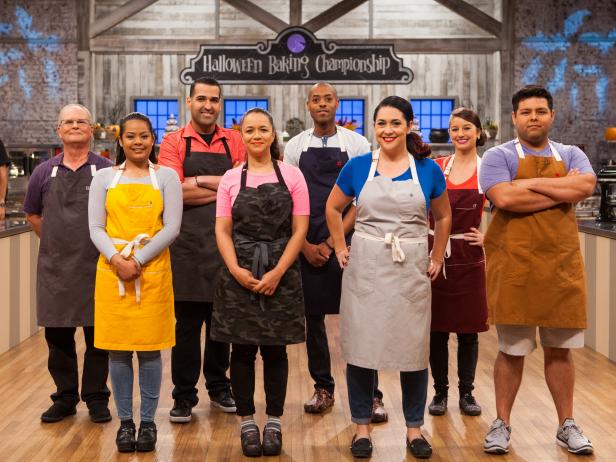 Get the details on the all-new season of Halloween Baking Championship, premiering on Sunday, Sept. 25 at 9|8c....