A good tomato sauce, a piping hot slice of margherita pizza, the iconic tomato soup — all of these are made possible by the juicy tomato. Tomatoes add richness to any number of home cooked dishes, whether roasted until the skin falls off or stewed into a multipurpose sauce. Though tomatoes have worked their way into our everyday lives, today we're viewing them from a different angle. When you're entertaining this summer, showcase the sophisticated side of the tomato, in all of its in-season glory.
As an appetizer, have guests smear Food Network Magazine's Spicy Tomato Jam and goat cheese on a fresh baguette. Or create mini pizzas for a bite-sized starter. Giada De Laurentiis uses a cookie cutter in her recipe for Pizzette with Gorgonzola, Tomato and Basil, which will disappear the moment they're set out.
Imagine slicing into Food Network Magazine's picturesque Heirloom Tomato Pie (pictured above), with its red and yellow hues amplifying any main dish it meets. Or in Food Network Magazine's savory Tomato Cobbler, fresh dough and a rich tomato filling reach bubbling perfection together in the oven.
Giada De Laurentiis creates a rustic Artichoke and Tomato Panzanella, also known as an Italian bread salad, by grilling the ingredients and dressing with a simple vinaigrette. Other than the fresh tomatoes, the majority of the recipe's ingredients come straight from your pantry. Sometimes the simplest executions are also the most delightful. Ree Drummond relies on the classic integration of basil, balsamic and extra virgin olive oil in her Marinated Tomato Salad with Herbs.
Food Network Magazine's Sausage-and-Basil Stuffed Tomatoes make a sure statement when they reach the dinner table. And as a veggie alternative, the Neelys' Grilled Stuffed Tomatoes are rich and creamy with goat cheese, orzo and herbs.
For the main event, Bobby Flay's Grilled Salmon with Sherry Vinegar-Honey Glaze and Spicy Tomato Relish is a lot easier than it sounds, and works as an ideal effortless centerpiece. Sandra Lee's Pan Seared Chicken with Roasted Tomato Sauce is substantial without breaking the bank, and leftovers make for a mean French Stew (featured).
More tomato recipes from friends and family:
Jeanette's Healthy Living: Juicy Summer Heirloom Tomato Fruit Salad
Dishing: Homemade Tomato and Herbs Pasta Sauce
Taste With The Eyes: Pomodorini e Mozzarella Ciliegine
The Sensitive Epicure: Tiny Insalata Caprese
Weelicious: Heirloom Tomato Pico de Gallo
Napa Farmhouse 1885: Slow-Roasted Tomatoes with Bruschetta
Red or Green?: Nachos with Fresh Tomatoes, Pinto Beans and Chiles
Domesticate Me: Spaghetti with Cherry Tomato Sauce, Mozzarella and Basil
Blue Apron Blog: Marjoram-Garlic Chicken with Jersey Tomato Panzanella
The Heritage Cook: Caprese Salad and Caprese Pizza
Daily*Dishin: Garden Vegetable Fresh Pasta Sauce
Pinch My Salt: 20 Tomato Recipes
Feed Me Phoebe: Bloody Marias
Dishin & Dishes: Pesto Rosso (Sun-Dried Tomato Pesto)
Devour: Five Fresh Tomato Salsa Recipes
More posts from Allison Milam.
Similar Posts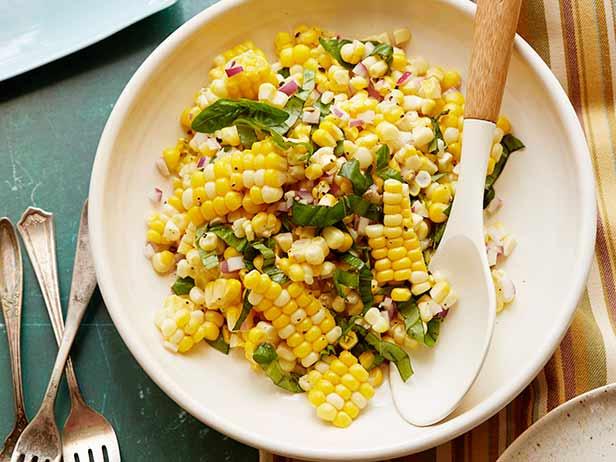 Think beyond the usual presentation of corn with butter and salt....