There aren't many reasons to turn on the oven during summer, especially in the middle of a heat wave. But if there ever was a reason, it would be to bake a seasonal fruit pie or tart. Summer is the time to bake with beautiful fruits like blueberries, raspberries, peaches, cherries, strawberries, plums and more because that's when these fruits are in their prime.
FN Dish has put together a great selection of 10 pie and tart recipes to bake this summer, along with tips for making the best pie yet. If you can take the heat for a couple of hours (with the a/c turned on high), then make one of these amazing pies.
The most important thing about pie is the crust — a tender, flaky one will always set a good pie apart from a ho-hum one. And pie dough isn't the most difficult thing to make; it just takes a little bit of handiwork. Here's a great article on making pie crust. If you don't have the time, though, no one will judge you for using a good-quality store-bought pie crust.
The second most important thing to consider, especially with summer fruit pies, is that baking fruit makes it runny, so you'll need a thickener of some sort. Use these tips to find the best thickener for the type of fruit you're baking.
10 Summer Fruit Pie Recipes:
Grandma's Strawberry-Rhubarb Pie — Strawberries and rhubarb are a classic combination and make the perfect match in this pie, which carries memories of Grandma's baked specialties.
Plum Galette — A galette is the French term for a freeform pie or tart that's made without the use of a pie pan. Simply place the pie dough on a sheet pan, add the sliced plums and fold up the dough edges around the filling — then bake.
Peach-Blackberry Pie — Peaches and blackberries make a great combination in this pie recipe from Bobby Flay. The tartness of the berries is balanced out by the sweetness of the peaches. A blend of spices and a splash of eau de vie enhance the fruit's flavors.
Summer Fruit Crostata (pictured above) — Ina's recipe for crostata (an Italian freeform pie) features peaches, plums and blueberries, but feel free to use your favorite summer fruit combination.
Fig and Almond Tart — This tart recipe from Giada has a layer of thinly sliced fresh figs arranged atop a mixture of almond paste and mascarpone — a truly decadent and elegant dessert.
Warm Apricot Tart — Jacques Torres' recipe is a classic French variation on the frangipane tart, which features an almond cream filling. The filling can be topped with almost any fruit, but in this case it's apricots.
Naples Grape Pie — Concord grapes make one of the most unique summer pies, a specialty of upstate New York. The thing to note is that the grape pulp is removed from the skins, cooked, strained and then reincorporated with the skins for the pie filling.
Bubby's Sour Cherry Pie — Sour cherries are full of tang and flavor, and they're perfect for pie-making. This recipe makes two pies, which is ideal for sharing — that is, if you don't keep both for yourself.
Mama Thornton's Peach Pie — A little bit of almond extract in this pie's filling brings out the peach flavor even more. Cinnamon and nutmeg add an additional level of spice.
Country Blueberry Pie — This pie focuses solely on blueberries to create a deeply flavored and hued dessert that goes well with a scoop of vanilla ice cream.
For more summer fruit recipe ideas see:
All-Star Summer Pies
Fresh Summer Dessert Recipes
Best Summer Fruit Desserts
More posts from Joseph Erdos.
Similar Posts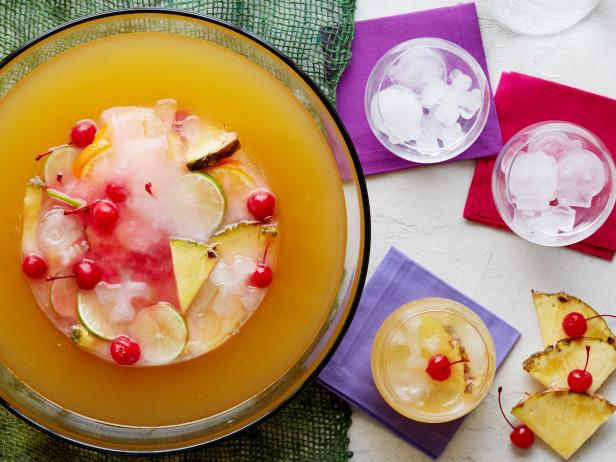 From formal events to backyard barbecues, punch is a party favorite for the ages....