On their own, in-season cucumbers are cool and refreshing. But when it comes to the fine art of pickling, arguably no other veggie does it better. Cold, refreshing and satisfyingly crunchy, pickles spike burgers with acidic crunch and pickle spears are a barbecue necessity. Before reaching for the jar, remember that pickling is actually a relatively simple science and you can do it to a whole slew of vegetables.
Today FN Dish is zeroing in on the cucumber and considering cuke creations that push way beyond the standard dill.
Let's start simple with quickest of the quick. True pickles take some time to come to fruition, but Rachael Ray's Quick Pickles take a mere 15 minutes to come together. Tyler Florence's Quick Sweet Pickles run a little longer — though not long at all — at four hours.
Alton's Dill Pickles are the most iconic. Patience is key here; you'll have to push your pickle craving back a bit for it to undergo the transformation. Alton's calls for both fresh dill and the seeds, so the end result will likely resemble the pickle of your childhood. For pickles that don't pucker, Alton's Kinda Sorta Sours run the middle ground.
For pickles with a kick, Bobby Flay's Spicy Dill Pickles (pictured above) are heated with red pepper flakes and accentuated with cilantro. Similarly, steeped in rice vinegar and hot red chiles, Tyler Florence's Sweet Chile Cucumber Pickles introduce a zesty Asian vibe to Hot House cucumbers.
Though not necessarily "pickled," Food Network Magazine's Chile-Lime Cucumbers arrive in the recognizable spear form. Dusted with dried arbol and guajillo chiles, they are hot, vibrant and still acidic in their own way.
When your cucumbers finally reach pickled perfection, you can do all kinds of quirky things with them. Food Network Magazine suggests crispy Fried Pickles, or follow Bobby's lead and create a Homemade Pickle Relish. Grilling the surface of juicy pickle halves grazes them with a subtle char. Though Food Network Magazine used the store-bought jarred pickles for its Grilled Pickles recipe, feel free to take from your homemade batch instead.
When choosing your cucumbers, look out pickle perfect gherkins, cornichons, Kirby cucumbers or lemon cucumbers. Since they're in-season, you'll have no trouble finding them.
More cucumber links from friends and family:
Feed Me Phoebe: Fennel Tzatziki with Mint
The Lemon Bowl: Japanese Quick Pickled Cucumbers
Jeanette's Healthy Living: Burmese Cucumber Watermelon Composed Salad
Domesticate Me: California Salad with Roasted Chicken and Avocado Dressing
Taste With The Eyes: Stuffed Cucumber Kimchi with Shrimp and Minari
Devour: Cucumber and Mint Lemonade
Haute Apple Pie: Sweet and Sour Cucumber Salad
Napa Farmhouse 1885: Spicy Cucumber, Carrot and Onion Refrigerator Pickles
Red or Green: Spicy Cucumber Gazpacho
Virtually Homemade: Cucumber Tomato Bruschetta
Food for 7 Stages of Life: Neer Mor — Zested South Indian Buttermilk with Cucumber
Weelicious: Cucumber Cream Cheese Sandwiches
Blue Apron Blog: Barley Salad with Heirloom Cucumbers & Golden Beets
The Sensitive Epicure: Pimm's Cups and Cucumber Tea Sandwiches
More posts from Allison Milam.
Similar Posts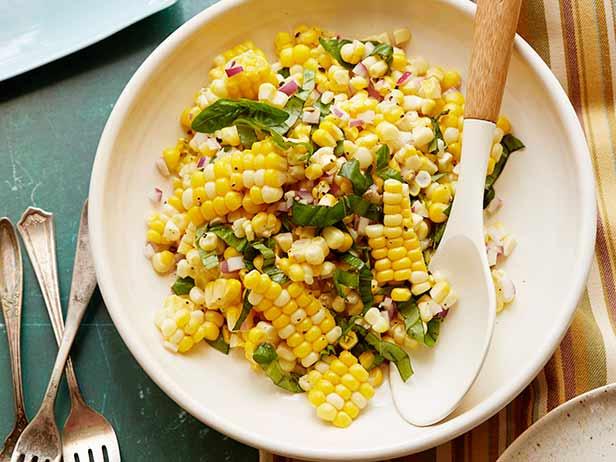 Think beyond the usual presentation of corn with butter and salt....