Nibbling corn on the cob has its perks, but you already knew that. This hand-held side is as easy as boiling water, smearing butter and going in for a bite. If you ask FN Dish, corn is a cornerstone of the great American barbecue, and it need not be fiddled with.
But as it turns out, things get a lot more interesting when the corn is shaved right of that cob, and Food Network's fleet of killer summer corn salads are proof.
For a true summery flavor, kick up the grill. Bobby Flay's Grilled Corn Salad with Lime, Red Chile and Cotija marries charred, sweet kernels with the most aromatic ingredients around. In this Grilled Corn and Chipotle Pepper Salad, all that's left to do is combine all the ingredients after the corn finishes grilling. Plate these salads next to Tyler Florence's Carne Asada for a grill-reliant, outdoor meal.
Ina Garten's Fresh Corn Salad (pictured above) places corn on a pedestal, bringing it together with nothing more than an effortless vinaigrette, diced red onion and fresh basil leaves.
Aarti Sequeira fixes a homemade rendition of the beloved Indian Street Corn Salad, a slow-roasted dish spiked with lime juice, spices, mint and cilantro.
For a salad that's all about texture, cook up Food Network Magazine's Farro and Corn Salad. The nutty grain adds a chewy element to the salad spiked with arugula and fresh lemon.
Corn does well when it joins forces with another summer crop, the tomato. Aida's Corn, Tomato and Avocado Salad for Food Network Magazine and this Fresh Corn Tomato Salad both call for juicy, sweet grape tomatoes — among other things.
For those who consider pasta salad to be a mandatory component of any grilling situation, Corn and Pasta Salad with Homemade Ranch Dressing is an easy solution. The homemade ranch requires nothing more than a whisk.
Go ahead and nosh on corn on or off the cob. Either way, it's in-season and sure to be sweet, juicy and backyard-friendly.
More corn recipes from friends and family:
Jeanette's Healthy Living: Mexican Corn Salad "Esquites"
Virtually Homemade: Grilled Corn with Ancho Chili Butter and Fresh Lime
Domesticate Me: Campfire Chicken Packets with Zucchini, Corn and Cherry Tomatoes
Dishin & Dishes: Elote (Mexican Grilled Corn) Three Ways
Feed Me Phoebe: Corn on the Cob with Sriracha Lime Butter
Taste With The Eyes: Hello Summer Salad
Napa Farmhouse 1885: Fresh Corn, Roasted Tomato and Pickled Garlic Pizza with Cornmeal Crust
Red or Green?: Corn & Green Chile Corn Muffins
Made by Michelle: Roasted Corn and Black Bean Salsa
Blue Apron Blog: Summer Succotash with Cod and Pickled Grapes
Devour: Four Grilled Corn Favorites
The Heritage Cook: Fresh Corn and Tomato Salad
The Sensitive Epicure: Cilantro Rice with Corn, Black Beans and Avocados
Pinch My Salt: Grilled Corn Guacamole
Daily*Dishin: Manchego Lime Roasted Corn
Weelicious: Corn Salsa
More posts from Allison Milam.
Similar Posts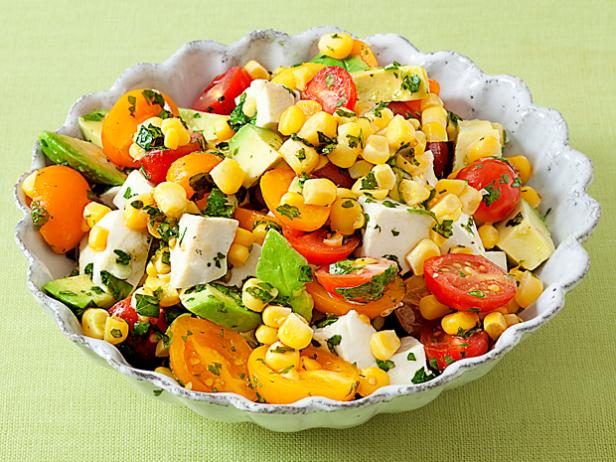 When it's too hot to cook, look no further than these tomato-focused recipes....