You don't need us to tell you it's hot. We're officially occupying the dog days of summer, and there's no escaping — or is there?
When you post up after a long day, arm your wet bar with a little something different: the cooling qualities of watermelon. There's no better ingredient to better your summery cocktails, with the fruit's natural sweetness and refreshing water content. Though all of these drinks employ the same fruit, they each revive in a different way, running the line between iced and frozen, alcoholic or virgin, traditional or eccentric. If these don't cool you down, nothing will.
Everyone loves a good cocktail. Today FN Dish is slurping the iconic ones, this time with a watermelon twist. With light rum, fresh mint leaves and a big squeeze of lime, the Barefoot Contessa's Watermelon Mojito is best enjoyed curled up on a beach chair. As for Food Network Magazine's Watermelon Sours, sour mix, lime and fruit-flavored liqueur punch up each slurp.
You can't list iconic cocktails without including the margarita, especially in this kind of heat. Food Network Magazine's Frozen Watermelon Margaritas uses pure watermelon, in addition to tequila, lime juice and orange liqueur.
Why is this Summer Watermelon Situation a "situation," you ask? In addition to fresh watermelon, the inclusion of coconut juice and lemon vodka create a cocktail that shines.
We're not banning all types of heat. Marcela Valladolid's Watermelon-Jalapeno Cooler shakes the high temps right out of your with its spicy infusion.
Watermelon doesn't need to go it alone either. Giada creates combinations like Watermelon, Strawberry and Tequila Agua Fresca and Berry, Melon and Mint Iced Tea so that you get your fruity fix in no time at all.
For a drink that cools down the whole family, Food Network Magazine's Watermelon Slushies (pictured above) only take one ingredient: the watermelon. Puree, freeze and dive in.
There you have it. Sit back, relax and enjoy the summer's most refreshing watermelon mocktails and cocktails.
Get more watermelon recipes from friends and family:
Dishing: Watermelon Agua Fresca
The Sensitive Epicure: Watermelon with Feta, Mint, Olive Oil and Sea Salt
Napa Farmhouse 1885: Watermelon Popsicles with Mint, Basil and Lime
Red or Green: Spicy Watermelon Salad with Grilled Mahi Mahi
Weelicious: Watermelon Cinnamon Granita
Taste With The Eyes: Watermelon Carpaccio, Blistered Shishito, Mitsuba and Lime
Dishin & Dishes: Summer Mixed Melon Nachos with Mascarpone Cream
Domesticate Me: Sparkling Watermelon Punch & Bowl
Jeanette's Healthy Living: Sweet and Salty Greek Watermelon Feta Mint Salad
Big Girls, Small Kitchen: Watermelon Vodka Rickey
Devour: Savory Watermelon Recipes
Made by Michelle: Watermelon Basil Lemonade
More posts from Allison Milam.
Similar Posts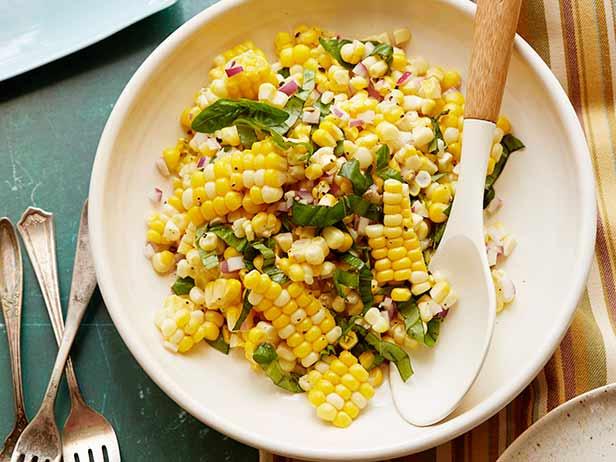 Think beyond the usual presentation of corn with butter and salt....