The beauty of
After Hours
competitions is that by the time the judges try their hands at four mystery ingredients, they are, in fact, not mysteries at all, having been revealed to the panel during the show when the competitors opened their baskets. The judges saw what the chefs did to transform the disparate ingredients into one cohesive dish and often recognize where they made missteps in their executions and where there is potential for improvement. After watching the entree round in tonight's all-new episode of
Chopped
, judges Amanda Freitag, Marc Murphy and Marcus Samuelsson took what the young competitors did with goat leg, rhubarb, frisee and hummus and used their successes, not failures, to motivate their own cooking.
Aarón Sánchez was on hand to guest judge this round, and he encouraged the panel to elevate the teens' already stellar dishes into something even more worthy of the Chopped Kitchen. "The flavors that they were able to get onto these dishes were absolutely amazing," Marcus said of the teens' offerings while cooking his own plate. "It actually inspired me to a do a really good job right now." He set off to prepare grilled goat leg with a potato salad and bacon-studded red wine-rhubarb sauce, while Amanda and Marc prepared meatballs with rhubarb-tomato sauce and roasted goat with potato salad and grilled lettuce, respectively. After a quick 30 minutes of cooking, the panel came together to taste each other's dishes, and Aarón admitted to his peers, "You guys did almost as good as the teenagers." They agreed that their offerings were inspired examples of how to integrate dissimilar ingredients. "I love the way they cooked, and I hope we made them proud and gave them some new ideas," Amanda ssaid at the end of the competition about the teenagers.
Want to see the judges in action in the Chopped Kitchen? Click the play button on the video above to see them tackle goat leg, rhubarb, frisee and hummus, then chat with fans in the comments section below about what went down. Plus, browse behind-the-scenes photos from the battle to get an insider's look at the competition.
More posts from Maria Russo.
Similar Posts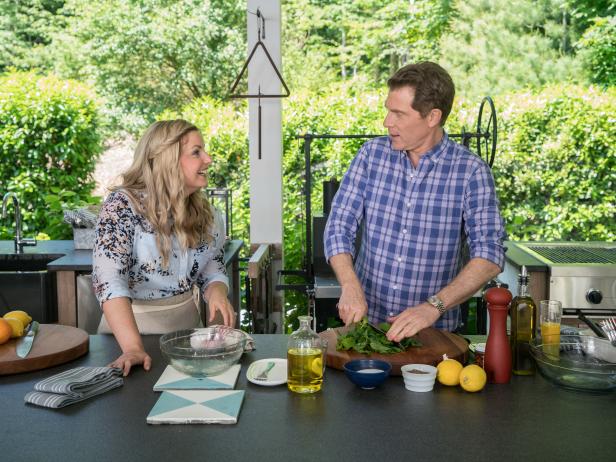 Get the latest details on the all-new series, The Bobby and Damaris Show....