When you find yourself faced with last-minute entertaining duties or you simply want to dress up your usual dinner spread with a few premeal munchies, it's a good idea to have several seasonal appetizers at the ready in your recipe arsenal. These go-to starters ought to be just enough to tide over friends and family without weighing down their appetites, and should ultimately complement the rest of the meal. If you'll be setting up a burger bar for dinner, for example, you may want to steer clear of sliders for a starter and opt instead for something simple like salsa and chips. Similarly, if you're serving a seafood feast as an entree, use the appetizer course to introduce a shellfish, like New England steamers. Check out Food Network's top-five summer appetizers below to find fresh, party-ready picks from Giada, Anne, Ellie, Rachael and Alton, then visit Food Network's Grilling Central to see the rest of our favorite first-course dishes.
5. Beef Pops with Pineapple and Parsley Sauce — Make a simple no-cook sauce of fresh parsley, garlic and vinegar, and let it do double duty in Giada's mini kebabs as both a marinade for the beef and a final topping on the dish.
4. Grilled Corn, Bacon and Chile Crostini — Anne dresses up garlic-rubbed bread with a flavorful salsalike mixture of sauteed bacon, grilled corn and Fresno chiles to create flavorful two-bite toasts that are smoky and just slightly spicy.
3. Zucchini Parmesan Crisps — Instead of deep-frying rounds of zucchini, opt for a lighter preparation of this in-season vegetable by first dunking them in olive oil, coating them in a breadcrumb-Parmesan mixture and then baking them until golden brown and crispy.
2. Grilled Shrimp — It's best to grill these simply seasoned shrimp with their shells still on so as to keep them moist and tender during the few minutes they're cooking.
1. Guacamole — Alton's timeless recipe features just a handful of classic ingredients, like avocado, cilantro and lime juice, and is best served at room temperature after sitting for one hour; this time allow the ingredients to marry and the flavors to develop. Click the play button on the video below to watch Alton make his chip-ready dip.
More posts from Maria Russo.
Similar Posts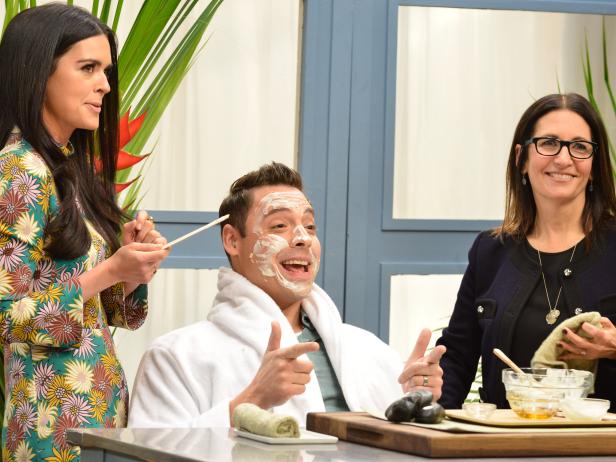 You don't have to travel somewhere exotic to make the most of your time off....