A simple blank slate that you can dress up with seemingly any and all flavors and textures, grilled chicken is perhaps the ultimate go-to family dinner, guaranteed to please kids and grownups alike. Given the versatility of grilled chicken, however, it can be challenging to know where to begin in transforming the meat into a flavorful, juicy meal. Check out Food Network's top-five grilled chicken dishes below for crave-worthy recipe inspiration, and find out how Guy, Bobby, Alton and more Food Network chefs put their signature spins on this classic summertime favorite.
5. Asian Barbecued Chicken — The secret to this weeknight-friendly dinner is finishing the chicken with a sweet, tangy homemade barbecue sauce featuring five-spice powder, garlic, hoisin sauce and honey.
4. Chipotle-Mango BBQ Chicken — Guy lets a mixture of mango, chipotle peppers and cilantro do triple duty in his simple recipe: It serves as a marinade for his bone-in chicken, a glaze with which to baste the meat while cooking and a finishing sauce to serve on the side.
3. Chile-Rubbed Grilled Chicken with Salsa —Ready to eat in only 30 minutes, these lean, juicy chicken breasts are marinated in a bold mixture of lime juice, garlic, cumin and a duo of chili powders, then quickly grilled and topped with a bright tomato-tomatillo salsa.
2. Grilled Chicken Cordon Bleu — While most traditional chicken cordon bleu recipes feature battered and pan-fried chicken rolled around ham and cheese, Bobby opts to grill his meat, then assemble the dish face-up, with a topping of creamy cheese, prosciutto and arugula.
1. Ring of Fire Grilled Chicken — Don't let the name of Alton's chili powder-laced chicken fool you into thinking it's especially spicy. The title comes from the way in which it's cooked: over rings of both direct and indirect heat on the grill. Click the play button on the video below to watch Alton make it.
More posts from Maria Russo.
Similar Posts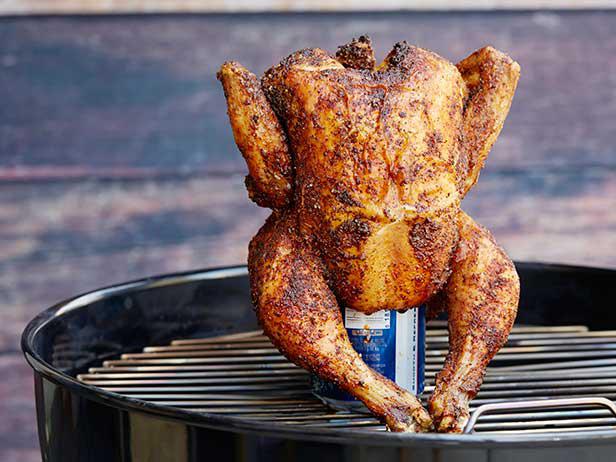 This clever grilling technique is easy enough to perfect even on your first try making it....