Can you believe it's already August? With this sultry month come many lovely things — most importantly, the ripe, in-season peach. As we transition from the inaugural crates of summer strawberries, these golden kaleidoscopes of gold and red are so juicy they dribble down your chin. And with a velvet fuzziness on the outside and an ambrosial sweetness on the inside, peaches are deep summer's most lusted-after loot.
Peak peaches deserve to be the highlight, the reason everyone's at the table. That's why FN Dish has assembled a list of the finest peach recipes. These unconventional dishes run the gamut and show us all the pretty peach is capable of — and, goodness, are they good.
1. Your mother wouldn't be happy with us, but let's start at dessert, the most iconic peach player of all. We all love Peach Cobbler, but unconventional desserts like Peaches and Cream Oatmeal Cookies, Caramel Peach Upside-Down Cake and Food Network Magazine's Peach Cobbler Ice Cream Cake will raise eyebrows. Even something as simple as Food Network Magazine's Hot Peaches and Cream can show the tender peach in all its glory.
2. For the brightest peach dishes of all, try light, summery salads that double as elegant starters or revitalizing Tupperware lunches. Food Network Magazine's Tomato Peach Salad with Basil is sweet and creamy, while its Tomato Peach Salad offers a spin on the classic Italian combo. Grilling salad-bound peaches does wonders, as well.
3. You can even use peaches as sandwich toppers, a la Food Network Magazine's Bacon, Peach and Arugula Sandwiches. The result is crunchy, sweet and unexpected.
4. Peaches even work as wonderful entrees. Ellie Krieger's Savory Peach Chicken makes a statement on the plate, and Food Network Magazine's Rosemary-Mustard Pork with Peaches puts the grill to use — as you should this summer.
5. Lastly, peaches are even good in liquid form. Food Network Magazine's Peach Pie Smoothies sure go down smooth. And on a hot August day, Rosemary Peach Lemonade is your savior, especially when Peach Ice Cubes come into play.
There's nothing quite like biting into a fresh, juicy peach in its purest form. Still, FN Dish challenges you to play with it a bit this August. There's really no better time.
More peach recipes from friends and family:
Jeanette's Healthy Living: Peach Kiwi Salsa
Chez Us: Upside Down Peach Bourbon Cake
The Heritage Cook: Grilled Peaches with Mascarpone Filling
Virtually Homemade: Peach Cobbler Muffins
Made By Michelle: Mint Peach Popsicles
Taste With The Eyes: The BLP Sandwich (Bacon, Lettuce and Peach)
Napa Farmhouse 1885: Healthy Peach Crisp Smoothie
Red or Green: Spiced Peach Daiquiri
Feed Me Phoebe: Peach Lassi
Domesticate Me: Grilled Halibut Tacos with Peach Salsa
Weelicious: Kenya's Peach Cake
Blue Apron Blog: Seared Trout with Peach and Arugula Salad
The Sensitive Epicure: Grilled Peaches with Greek Yogurt, Honey, Lime Zest and Vanilla
Daily*Dishin: Blackberry Cheesecake with Fresh Peach Topping
Devour: Chia Seed Pudding with Peaches
FN Dish: 5 Unsung Sides of the Summer Peach
More posts from Allison Milam.
Similar Posts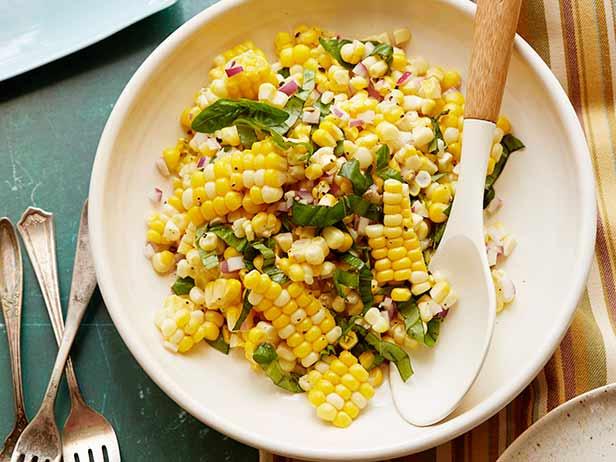 Think beyond the usual presentation of corn with butter and salt....