This weekend, Food Network's new episodes cover a little bit of everything, including Mexican night, movie night, packed lunches to go, barbecuing, muffins, cupcakes and more.
Start your Saturday morning with recipe ideas for a packed lunch to go, as Ree prepares sandwiches and salads for a group meeting. Then Trisha gets to cooking a Latin-style menu with her workout instructors. Later, Giada shares her favorite muffin recipe with various mix-in ideas.
On Sunday morning, Jamie Deen is preparing dishes for taco night with a Southern twist. Then Guy is cooking a special lobster dish. On Sandwich King, Jeff is remaking the sloppy joe to be healthier for his son Lorenzo. And Bobby is barbecuing bison short ribs and grilling fish tacos.
Then in the evening, come back for some competition, starting with a toy-themed episode of Cupcake Wars. Then it's off to the movies on Food Network Star, where teams of the remaining finalists must cook and create movie trailers. And finally, on Restaurant: Impossible, Robert must help revitalize a Greek diner.
The Pioneer Woman: "The Building"
Ree's putting together a boxed lunch for a meeting at an old building the family is renovating. She has Colossal Club Sandwiches, individual portions of Easy Greek Salad, Homemade Black Pepper Potato Chips and Chocolate Chocolate White Chocolate Chip Cookies for everyone to munch on while they look over plans for the building.
Tune in: Saturday, June 22 at 10am/9c
Trisha's Southern Kitchen: "Z-Girls"
After a tough workout, Trisha and her Zumba friends get in the kitchen to put together a Latin-themed feast. On the menu are Lori's Salsa Ranchera, Chicken Tortilla Casserole, Cheater Beans and Frozen Sangaritas.
Tune in: Saturday, June 22 at 10:30am/9:30c
Giada is always on the hunt for the perfect corn muffin — light, fluffy and packed with flavor. In this episode, she makes an easy and delicious base muffin recipe and transforms it into different flavors like Blueberry Buttermilk, and Bacon and Scallion Corn Muffins. She serves them up with perfect companions like Pea, Lettuce and Fennel Soup and Homemade Chai Lattes.
Tune in: Saturday, June 22 at 11:30am/10:30c
Home for Dinner with Jamie Deen: "Taco Night Done Right!"
Jamie Deen and his family are having a weeknight Mexican meal with some Southern twists. Jamie is making Turkey Tacos, a Cheesy Mexican Skillet Rice casserole, grilled corn salsa, 7-layer bars and Mexican Spiced Boiled Peanuts.
Tune in: Sunday, June 23 at 10am/9c
Guy's Big Bite: "A Lobster Tale"
Guy Fieri is recreating a dish that wowed friends and family at a recent holiday dinner: Lobster Ravioli. To serve alongside it he has Warm Lentil and Acorn Squash Salad.
Tune in: Sunday, June 23 at 10:30am/9:30c
Sandwich King: "Comfort Food Classics"
Jeff remakes the classic sloppy joe into a healthier, kid-friendly sandwich he calls The Sloppy Lo. Jeff makes over another comfort food classic with his Chicken Pot Pie Sandwich, and rounds out the meal with Parmesan tots with a side of buttermilk dipping sauce.
Tune in: Sunday, June 23 at 11am/10c
Bobby Flay's Barbecue Addiction: "Four Corners 'Cue"
Bobby Flay celebrates the flavors of his favorite American region with this Southwestern-style cookout, featuring dishes like Spice Rubbed Bison Short Ribs with an Orange-Honey-Chipotle BBQ Sauce, Grilled Fish Tacos, Creamed Corn Succotash and Tequila Sangria.
Tune in: Sunday, June 23 at 11:30am/10:30c
Cupcake Wars: "Cupcakes 'R' Us"
Four imaginative bakers are going to have to unleash their inner child as they compete for the chance to serve their creations at a black-tie awards gala for the Chicago Toy and Game Fair. Toy inventor Nancy Zwiers serves as guest judge.
Tune in: Sunday, June 23 at 8pm/7c
Food Network Star: "Big Screen Bites"
This week the remaining finalists will compete at a cinema. Paired into teams of three, they will have to create a menu and a movie trailer for a focus group of movie enthusiasts. Watch to find out whose concept will be a hit at the box office and who will go home.
Tune in: Sunday, June 23 at 9pm/8c
Restaurant: Impossible: "It's All Greek to Me"
Robert Irvine visits the town of Woodstock, Ill., to help cousins Angelo and Angelo and their diner, Angelo's. Their fathers started the restaurant 40 years ago but nothing has changed since — there's still the same menu, the same decor and the same family drama. Robert has two days to unravel the issues of this Greek restaurant and figure out why the cousins are dangerously close to ruining their namesake business and all their fathers' hard work.
Tune in: Sunday, June 23 at 10pm/9c
More posts from Joseph Erdos.
Similar Posts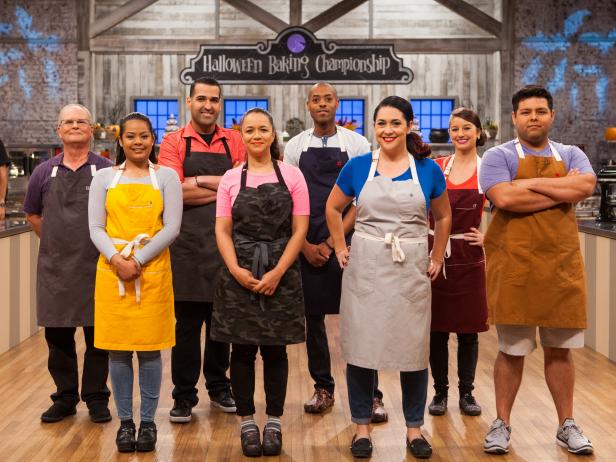 Get the details on the all-new season of Halloween Baking Championship, premiering on Sunday, Sept. 25 at 9|8c....