These days, the containers of blue and red berries stacked on produce shelves might be the most difficult thing to decline. Especially when they're so in-season, so plentiful and so perfectly sweet. Of course, berries do wonders layered in a trifle, baked into a cheesecake or scattered in a fruit salad. But today, we're focusing on one specific utilization of the berry: its hand in breakfasts. Strawberries, blackberries, blueberries — you name it. They've each got a place in the first — and oh-so-important — meal of the day.
First things first, let's talk parfaits. They make for layered, well-rounded breakfasts you can eat all week long, whether you switch them up or not. Ellie Krieger's Muesli Parfaits are filling with a good dose of nutty crunch. This recipe for a Berry 'Nana Oatmeal Parfait laces oats and vanilla almond milk into the mix. And if you want to get really creative, Food Network Magazine's Strawberry-Shortcake Parfait Pops transition the breakfast favorite into a refreshing dessert.
When berries are baked into pastries, they burst with sweetness. Tyler Florence's Orange Glazed Blueberry Scones are the perfect partner to a morning cup of tea, and the glaze is made from fresh orange juice. Freezer-to-Oven Berry Muffins are a make-ahead dream, and ooze with fresh strawberries, blueberries and/or raspberries.
Food Network Magazine's Lemon-Berry French Toast is all kinds of aromatic, and Pat Neely's Buttermilk Pancakes with Vanilla Bean-Berry Syrup (pictured above) recipe for Food Network Magazine calls for a pint of fresh berries — just for the syrup.
More berry recipes from friends and family:
Feed Me Phoebe: Gluten-Free Blueberry-Almond Pancakes
The Lemon Bowl: Strawberry Mango Chia Smoothie
Dishin & Dishes: Crunchy Topped Blueberry White Chocolate Muffins
Jeanette's Healthy Living: Gingered Blueberry Shortcakes with Light Creamy Topping
Taste With The Eyes: Blueberry Limoncello Pavlova
Sweet Life Bake: Paletas de Fresca y Aguacate
Napa Farmhouse 1885: Mixed Berry Tea Cake
Red or Green?: Strawberry & Blueberry Crisp (Red or Green-style)
Virtually Homemade: Blueberry Mint Margaritas
Haute Apple Pie: Triple Berry Ice Cream
Pinch My Salt: Strawberry Peach Cobbler with Almond Biscuit Topping
Cooking With Elise: Dehydrating Blueberries, Plus Blueberry and White Chocolate Cookies
Devour: Four Healthy Berry Recipes
Domesticate Me: Summer Berry Crisp
Weelicious: Brainy Breakfast
The Sensitive Epicure: Strawberries with White Balsamic Vinegar Caramel, Orange Zest and Black Pepper
Daily*Dishin: Fresh and Easy Blueberry Pie
From My Corner of Saratoga: Mixed Berry Freezer Pops
FN Dish: Wake Up with Berries
More posts from Allison Milam.
Similar Posts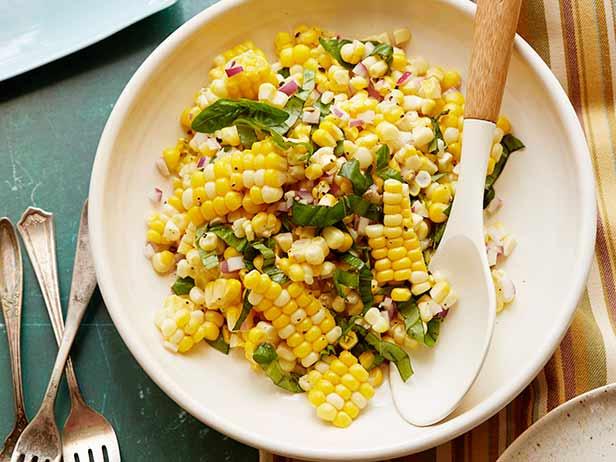 Think beyond the usual presentation of corn with butter and salt....