Peas are good popped straight from the pod, but they're even better with a little TLC. Here at Food Network, FN Dish is lining up our top pea sides, each popping with a whole lot more than color. Sweet peas, garden peas, English peas, whatever you choose to call 'em — these babies are bright, light and in-season.
Your classic mashed potatoes are revisited in this Tyler Florence recipe for Smashed New Potatoes with Peas, Lemon and Pearl Onions, and serve as a solid side to a grilled steak.
Food Network Magazine's Creamy Spring Peas with Pancetta (pictured above) comes with three doses of peas: shelled English peas, sugar snap peas and snow peas. Spring Peas with Dates and Walnuts utilizes the same pea trilogy, but this time integrates a natural sweetness from the dried fruit.
It turns out Peas and Prosciutto work well together in this recipe by Giada De Laurentiis, which derives a rounded flavor from the cured meat. Food Network Magazine's Risotto with Pesto and Peas is also a luxurious way to integrate the in-season veggie, with fresh mozzarella, grated Parmesan and diced ham.
Food Network Magazine's recipe for Pesto Orzo with Peas may call for the frozen stuff, but swap in fresh. Use store-bought pesto for an easy weeknight side, or even a main dish.
The moral of the story? Keep your shriveled frozen peas in the bag for the cold months. These days, peas are nothing but garden-fresh.
More pea recipes from friends and family:
Dishin & Dishes: Smashed Pea Bruschetta with Mint
Feed Me Phoebe: Sweet Pea and Green Onion Soup
Taste With the Eyes: Peas and Pasta with a Garlicky Yogurt Sauce and Smoky Walnuts
Weelicious: Peas and Pasta
Devour: Quick Salad with Peas
Napa Farmhouse 1885: Pasta with Spring Peas, Mushrooms and Greens
Red or Green?: Szechuan Spring Peas, Asparagus, Pine Nuts and Brown Rice Salad
Blue Apron Blog: Sweet Corn & Pea Fritters with Pea Tendril Salad
Pinch My Salt: Homemade Tuna Noodle Casserole
Domesticate Me: Clean Out Fridge Frittata
Virtually Homemade: Summer Lasagna with Skinny Alfredo Sauce
The Sensitive Epicure: Pea Puree with Roasted Salmon and Chives
Daily*Dishin: Marinated Spring Pea Salad
The Heritage Cook: Pea, Potato and Bacon Salad with Lemon Vinaigrette
More posts from Allison Milam.
Similar Posts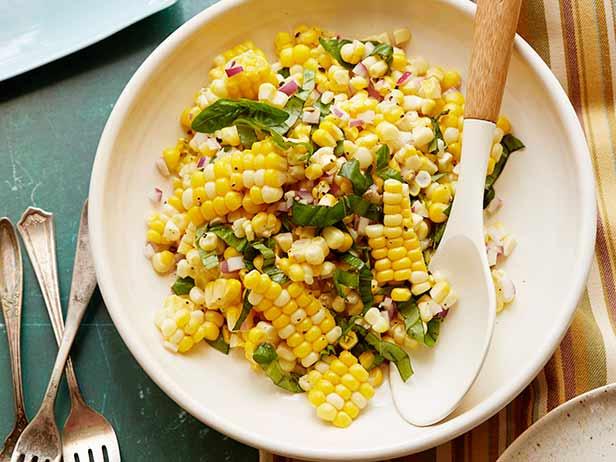 Think beyond the usual presentation of corn with butter and salt....