If you're thinking of buying another tie for your dad this Father's Day, stop right now. Does he really need another one? Instead, go for a homemade gift. It's the perfect present for a food-loving dad who will appreciate a jar of tangy barbecue sauce, a caramel sauce made with beer or even a box of chocolate-covered bacon that he won't stop raving about. But to complete the gift, add on a store-bought item, like a set of beer glasses for testing out some different varieties or a smoking kit for the next time he's barbecuing. He'll love that you've set him up with everything he needs for enjoying his favorite pastime.
FN Dish has done the work for you and come up with 10 ideas that pair a homemade food gift with a purchased item to make the perfect themed gift package. Find ideas for the beer lover, the barbecue enthusiast, the coffee lover and more.
Beer Lover

This caramel sauce has a special ingredient that any dad will love: beer. It's great on desserts and is especially good drizzled on vanilla ice cream. Give Dad a jar of the sauce and match it with a beer-making kit and tasting glasses for trying his homemade libations (all pictured above).
Get Food Network Magazine's Caramel Sauce recipe
Buy the Beer Tasting Gift Set from Spiegelau
Buy the Everyday IPA Beer Kit by Brooklyn Brew Shop
Burger Guy
If your dad likes trying different kinds of burgers, he'll love a copy of Rachael Ray's The Book of Burger (pictured above), which has countless recipes for him to perfect. Match it with a bottle of Jamie Oliver's homemade spicy ketchup and a burger flipper from Guy Fieri, and he'll be all set to get grilling.
Get Jamie Oliver's Homemade Tomato Ketchup recipe
Buy Rachael Ray's The Book of Burger
Buy the Signature Burger Turner by Guy Fieri
Jerky Lover
If your dad loves snacking on jerky, he'll appreciate a gift of this homemade Smoky Cola Jerky (pictured above). Package it with a book on how to make different kinds of jerky and you may just get your dad started with a new hobby. And if he doesn't already own one, a dehydrator would make a great gift for making jerky at home like an expert.
Get Food Network Magazine's Smoky Cola Jerky recipe
Buy the Jerky book
Buy the Deluxe Dehydrator by Nesco
BBQ Beginner
Great grill masters have to start somewhere, and when it comes to grilling the perfect piece of meat, it's all about doneness and temperature. If your dad likes dabbling in barbecue, give him the gift of a handy instant-read thermometer. Package it with a homemade barbecue sauce for him to try. If you think he's ready to take the next step into smoking, add on an easy-to-use kit that features three different woods (pictured above).
Get the Coca Cola Barbecue Sauce recipe
Buy the Pocket Thermometer by Weber
Buy the Smoke in a Cup Set by Charcoal Companion
Masterful Mixologist
If your dad always takes on the role of mixologist at every party, he'll be happy to receive a gift of homemade Bloody Mary mix. Make Ina Garten's recipe and include a bottle of vodka so he can mix the drink himself. Pair it with the coolest bartending tool even MacGyver would go crazy over for a great gift (pictured above).
Get Ina Garten's Bloody Mary recipe
Buy the Bar10der
Sandwiches and Panini King
If your dad thinks of himself as the next Sandwich King, he'll surely appreciate a brand-new panini pan for grilling his unique creations. Add a jar of homemade pickles (pictured above) to complete the gift. Who knows? He may even give Jeff Mauro a run for his money.
Get Bobby Flay's Homemade Spicy Pickles recipe
Buy the Simply Calphalon Nonstick Panini Pan by Calphalon
Steak Guy
When it comes to summer grilling, if your dad is the type of guy who must have his steak done perfectly, then you know he'll appreciate a set of sharp steak knives, like these from Guy Fieri (pictured above). And an Emeril cutting board might also come in handy when he's slicing up those steaks. Throw in a bottle of homemade steak sauce to round out the gift package.
Get Michael Chiarello's Steak Sauce recipe
Buy the Bam Cutting Board by Emeril
Buy the Knuckle Sandwich Steak Knives by Guy Fieri
Aficionado of All Things Hot
Self-proclaimed chili heads often have big collections of hot sauces they've collected over the years, but the one that's been homemade and gifted with love will be the one Dad will cherish the most. Make this Fire Water hot sauce recipe from Tyler Florence and pair a bottle of it with a collection of hot chile-flavored salts (pictured above).
Get Tyler Florence's Fire Water recipe
Buy the Hot Gourmet Salt Set by the Spice Lab
Bacon Lover
Chocolate-covered bacon might just be the best gift for lovers of chocolate and of bacon. Plus if your dad is the resident bacon cooker in the house, he'll appreciate a bacon press (pictured above) to keep his meat candy from curling up.
Get Gina Neely's Chocolate Covered Bacon recipe
Buy the Bacon Press by Norpro
Coffee Lover
So Dad can get the perfect cup of coffee even at the office, gift him a personal single-serve coffee maker and include a tin of freshly baked cookies. What makes these Double-Chocolate Espresso Cookies (pictured above) from Giada De Laurentiis special is the fact that they include a perk: chocolate-covered espresso beans, perfect for the afternoon pick-me-up.
Get Giada De Laurentiis' Double-Chocolate and Espresso Cookies recipe
Buy the Personal Single-Serve Coffee Maker by KitchenAid
More posts from Joseph Erdos.
Similar Posts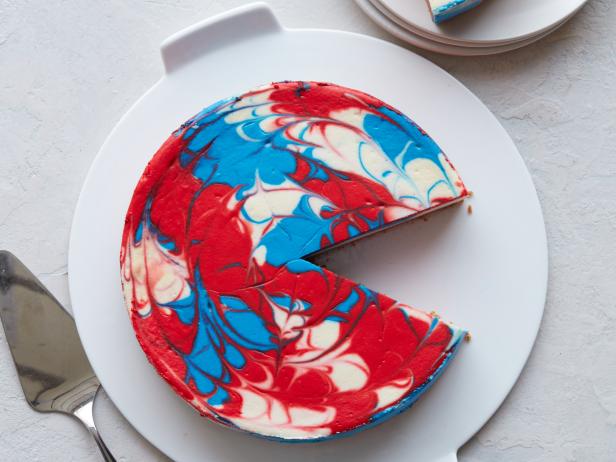 This week, our social feeds were inundated with red, white and blue....