This summer, Food Network's Grilling Central is packed with recipes for the entire family's taste buds, boasting the best in burgers, dogs, chicken and more all season long. But with so many recipes, where do you start? Each Friday, FN Dish is giving you a complete menu that is stress-free, and this weekend's spread features nontraditional burgers made with chicken and seafood.
Traditional beef burgers are, of course, a summer classic, but when the old standby proves predictable and perhaps even boring, it's time to look to other between-the-bun creations to dress your grilling menu. Swapping in ground chicken, turkey or pork instead of everyday beef delivers the same meaty bite you're used to, but it also offers new tastes and textures. Seafood, too, works well in patty form, especially when you pair it with complementary toppings.
Food Network Magazine lets family-friendly fish shine in its Perfect Salmon Burgers, a top-rated dish made moist and flavorful, thanks to a binding mixture of mustard, mayonnaise, lemon juice and breadcrumbs. Serve these dressed-up fish sandwiches as you would a seafood dinner: with a topping of creamy tartar sauce for the most tried-and-true taste.
Instead of enjoying crab cakes on their own, serve them sandwich style with a crunchy topping using Food Network Magazine's recipe for Creole Crab Burgers (pictured right). Start with the crab cake of your choice — Tyler's easy recipe is a go-to pick — and finish it on a hearty roll with a cabbage-onion slaw laced with parsley and cayenne.
When the craving for juicy meat just can't be ignored, look to Rachael's BBQ Chicken Burgers with Slaw (pictured top) instead of relying on the usual beef burger. After combining ground chicken with a barbecue-inspired blend of garlic, onions, tomato paste and Worcestershire sauce, she forms the mixture into patties and sautees the burgers for just a few minutes. Top each with a sweet and tangy slaw of shredded cabbage, honey and sweet pickle relish to complete this five-star 30-minute meal.
Appetizer: Guacamole Salad
Main Dish: BBQ Chicken Burgers with Slaw (pictured top)
Side Dish: Texas-Style Potato Salad
Dessert: Peach Crisp with Maple Cream Sauce
Drink: Raspberry Lemonade
More posts from Maria Russo.
Similar Posts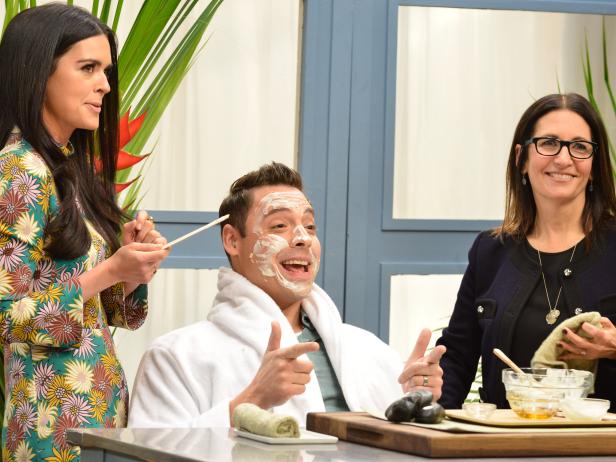 You don't have to travel somewhere exotic to make the most of your time off....