This Memorial Day weekend, show your patriotism with a red, white and blue dessert. It's the perfect way to end a backyard gathering with family and friends. No one will be able to resist a dessert that symbolizes the holiday.
Food Network has 10 recipes that will make your Memorial Day entertaining memorable and easy above all else. Many of these recipes only require a little bit of effort to create a grand-looking dessert, like the Red, White and Blueberry Trifle pictured above — it uses store-bought angel food cake. But the most important feature of all these recipes is that they display the nation's colors. There's even a Flag Cake if you want to be extra patriotic!
Brioche and Berry Bread Pudding With Lemon Fondant — These mini bread puddings from Tyler Florence turn a pretty shade of crimson from the berries tossed in the custard mixture. Top with runny lemon fondant.
Grapefruit Zabaglione Over Mixed Berries — Giada De Laurentiis has a refreshing summer dessert in store with red, white and blue colors. Simply serve bowls of mixed berries with a drizzling of grapefruit zabaglione for the perfect end to any meal.
10 Minute Fruit Tart — If you're in a hurry to create a dessert for your holiday get-together, try Rachael Ray's 10-minute tart. It uses a prepared graham cracker crust, jarred berry preserves and vanilla pudding mix. Top with a colorful array of fresh berries.
Berry Napoleons With Sugared Wonton Wrappers — Napoleons don't have to be difficult to make if you use Robin Miller's recipe. Baked wonton wrappers take the place of pastry. All you do is stack them in layers with whipped cream and mixed berries.
Polenta Cupcakes With Mascarpone Frosting and Mixed Berries — Polenta in this recipe from Michael Chiarello lends a hearty texture to the cupcakes. Spread them with rich mascarpone frosting and top with mixed berries.
Red, White and Blue Cherry Pies — Pies are even more fun when everyone gets an individual-sized one. This recipe from Sandra Lee calls for cherry pie filling, making it easy to prepare this dessert when fresh cherries aren't always available.
Angel Food Cake With Berries and Whipped Cream — This recipe couldn't be any easier. All you need is a prepared angel food cake, whipped cream and fresh berries, and dessert is ready.
Flag Cake — Show off to friends and family with this impressive and patriotic flag cake from Ina Garten. The cake is extra moist from the addition of sour cream and the topping is a rich cream cheese frosting. Decorate with raspberries and blueberries to create the flag design.
The Neelys' Berry Shortcake — These shortcakes are easy to make when you use refrigerated biscuits. Fill each split biscuit with the macerated fruit and whipped cream.
Red, White and Blueberry Trifle (pictured above) — The best thing about a trifle is how impressive it looks for the little effort it took to make. All you need to do for this recipe is cook a simple berry sauce and make a cream cheese filling. Let the supermarket take care of the cake, in this case angel food cake. Then it's just a matter of assembly.
For more recipe ideas for this holiday weekend, visit Food Network's Memorial Day page.
What's your favorite dessert to serve on Memorial Day? Leave a comment below.
More posts from Joseph Erdos.
Similar Posts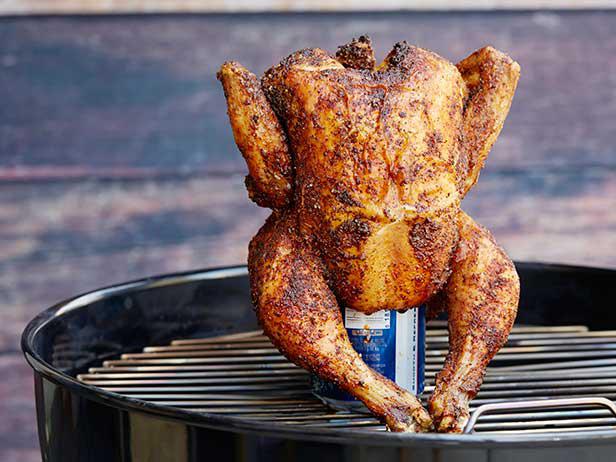 This clever grilling technique is easy enough to perfect even on your first try making it....