I hesitated for a long time before including a recipe for roasted chicken in my cookbook. It seemed so basic and simple, but as I talked to more and more home cooks it became apparent that roasting a whole chicken is an intimidating kitchen project for many people. And when I use the word project, I mean it very loosely, because really there's no fuss in doing it.
The real key is the right cooking temperature; that's what ensures a super crispy skin, but also keeps the white meat juicy and moist. And forget about trussing — this isn't your mother's roast chicken. In fact, I've found that the chicken cooks more evenly if you leave the legs wide open. It allows the heat to circulate throughout the chicken, so the dark and white meats cook evenly.
A Simple Roast Chicken
Recipe courtesy of Homemade with Love: Simple Scratch Cooking from In Jennie's Kitchen by Jennifer Perillo (Running Press 2013)
Serves 4
One 3 1/2 pound whole chicken (remove the giblets, and save for another use)
Extra virgin olive oil
Coarse sea salt and freshly ground black pepper, to taste
Preheat the oven to 475 degrees F.
Rinse the chicken and pat dry with a paper towel. Place breast-side up in a roasting pan. Drizzle the top of the chicken with a bit of olive oil. Season with salt and pepper. Cook for 20 minutes, then add 1/2 cup of water to the bottom of the pan — this helps prevent the drippings from smoking, while making a natural sauce from the juices, called an au jus. Roast for 40 to 50 minutes more, until the juices run clear and an instant read thermometer inserted in the thigh registers 185 degrees F.
Remove the chicken from the oven and let sit for 5 to 10 minutes before carving or cutting up.
(Image courtesy of Jennifer Perillo, from Homemade With Love)
Wondering what to do with any leftover chicken? Food Network has that covered for you, too.
Related Reading:
More posts from Jennifer Perillo.
Similar Posts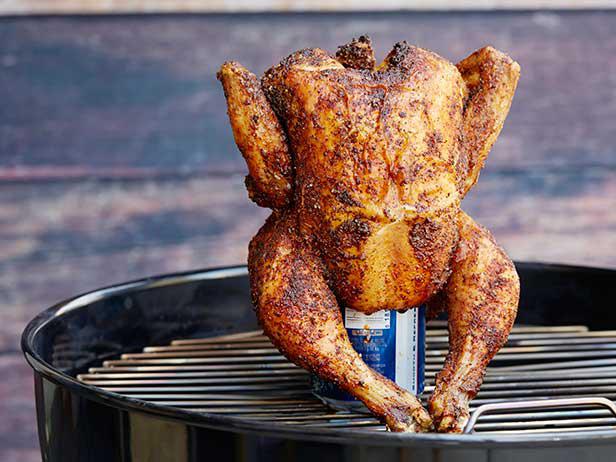 This clever grilling technique is easy enough to perfect even on your first try making it....