More likely than not, your kids have better things to think about than garden-fresh produce, bustling farmers' markets and mindful grocery shopping. But, when they sit down at the dinner table, all that good stuff is what's for dinner, even if they're morally opposed to eating their veggies. Use these recipes to get your kids excited about spring produce.
For some, green beans are good eaten straight out of the produce bag. But for those who need a little push, Alton Brown's Best Ever Green Bean Casserole is just as the name implies. Rather than using the store-bought crunchy onions, Alton whips his up from scratch.
Broccoli is typically a no-go for most little ones, but when it's served up in a style reminiscent of mac and cheese, it's much easier to sell. With a foundation of rice and a scattering of florets, Sunny Anderson's Cheesy Mushroom and Broccoli Casserole (pictured above) does just that.
Since when does a kid come down with a hankering for spinach? With its cheesy and comforting disposition, the Barefoot Contessa's Spinach Gratin — or her Zucchini Gratin — makes getting your daily intake of veggies easy.
Food Network Magazine's Four-Cheese Pasta With Peas and Ham disguises the green element with mozzarella, fontina and sharp cheddar, and it can be portioned as a filling side to chicken breast. And for gnocchi fans, there's always Cheesy Gnocchi With Ham and Peas.
Mac and cheese is a crowd-pleaser from the start, but when it's morphed into Baked Macaroni and Cheese Cupcakes, it's a whole new ballgame. Giada De Laurentiis stocks hers with asparagus, chopped broccoli and cherry tomatoes.
Baked Cavatappi With Artichokes and Fennel is ideal for little ones who aren't familiar with these big-kid ingredients just yet, and since artichokes are in season, it's about time you get this on the table.
Dinnertime is about to get a whole lot easier.
More kid-friendly sides from friends and family:
Feed Me Phoebe: Radish and Basil Thai Fried Rice
Jeanette's Healthy Living: Easy Stir-Fry Green Beans
The Cultural Dish: Authentically Homemade Guacamole
Devour: Kid-Friendly Baked Ziti
Domesticate Me: Skillet Cornbread
Napa Farmhouse 1885: Healthy Carrot Cake Cupcakes With Maple Cream Cheese Frosting
Red or Green? Spicy Chickpea Burgers With Cabbage Slaw
The Heritage Cook: Duck Fat Fries, a Kid's Favorite Snack!
Virtually Homemade: Mini Banana Chocolate Chip Muffins
Cooking With Elise: Zesty Tortellini Salad
More posts from Allison Milam.
Similar Posts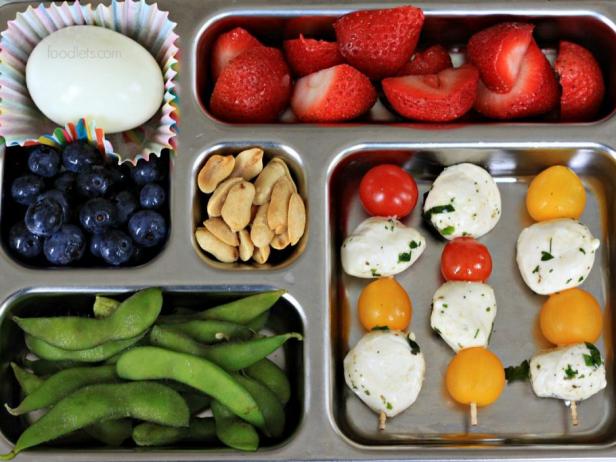 One mom shares her go-to trick for less-hectic weekday mornings....