Earlier this week, FN Dish caught up with Geoffrey Zakarian for a Facebook chat about Season 3 of Chopped All-Stars. Geoffrey answered questions about the current season, what it's like to judge a wide array of dishes and how his experience as an Iron Chef informs his judging. He also chatted about what he's up to next in his career.
Read some highlights from Geoffrey's Facebook chat below:
Nevin Goodman: Now that you are an Iron Chef, do you find you are more critical of competitors?
Geoffrey Zakarian: Not at all. I've been a chef for a while. I don't consider my cooking any better now than it was before I was an Iron Chef. I'm very straightforward. When I taste the food, I try to give positive feedback first and constructive comments second because I think it's more helpful that way. But I don't let being an Iron Chef affect that.
Whitney Lecole Holland: What is one item you would love to see in the basket?
GZ: We've seen just about everything. I would love to see very straightforward things, like flour, eggs and butter. When you have simple ingredients, the challenge becomes taking it to another level to really transform the ingredients. That would be fun.
Jean Metzler: When you say, 'It was a bit clunky,' what do you mean?
GZ: It depends on what the dish was. There are all kinds of reasons to say that. Usually it means the dish didn't really seem to have purpose — or wasn't very clean. It could mean too many flavors or too much going on.
Cindy Burkhart Wolford: Is there a food any of the judges refuse to eat, so we will never see it in the basket?
GZ: We have to eat everything. We all taste it all. We're there to eat, and we do. We don't have a choice.
Andrew Ong: Is it better to put up a plate that is not completed (missing components) or to put up a plate that has errors (undercooked, underseasoned)?
GZ: It's better to put a complete plate up. If you're going to put up a plate with errors, we'll just count the errors against you. An incomplete plate, we can't really judge. A plate will always have errors.
Kathleen Koderick: What is the worst basket item you had to eat?
GZ: Durian was terrible. I had to eat chicken feet once, too. Those weren't very good either.
Jessica Barrett Strelecky: Are you ever afraid to eat what is made? Sometimes there are some questionable ingredients and cooking/prep methods!
GZ: I'm afraid all the time, for those reasons. One of the most difficult things is cooking things properly. I'm always very, very leery about what I'm going to get in front of me.
Pam Stamer: How much does the look of a dish matter if it tastes good?
GZ: That's a good question. If we were to forgive one thing the most, it's probably the look. If they hit the timing and the taste and the creativity … presentation is important, but I think that it's the one thing that you can forgive a little. But the dish has to be REALLY good for us to do that.
Kevin Bateshansky: Geoffrey, in addition to French toast, are there any other dishes you are tired of having to judge?
GZ: You're right: French toast is made a lot. I know everybody loves ice cream, but it's not the showstopper it used to be. Ice cream isn't really a dessert; it's a garnish.
Matthew Barnes: What was the worst ice cream you HAD to taste?
GZ: Someone once made ice cream with salt. It was half-salt, half-sugar because the chef made a mistake. It was pretty gross. It's hard to mess up ice cream.
Niki Harmon Adrian: What is the most memorable Chopped dish you have tasted?
GZ: Wow. It was a dessert made with a sweet avocado and lime combo. It was just outstanding.
Joy Tenenberg-Cook: Since you've gotten so much flack while competing about doing dishes 'two ways,' or even 'three ways,' how do you feel when a chef on Chopped delivers a dish 'two ways'? Do you feel it is ambitious, or do you feel the way all the judges felt when you would do that on competition shows?
GZ: Anyone who does something two ways really well on Chopped is really confident. They still have to pass the requisite taste test, and it's hard to do well in the short time period allotted. But if they can do it well, it goes a long way!
Darlene Pettigrew: It must be hard to judge when your peers are cooking. Have any of them gotten upset with you or the other judges when chopped?
GZ: No. They're so good that they know they made a mistake. They're all very honest with themselves.
Kristy Kennedy: Did any of the contestants in Chopped All-Stars really surprise you with their cooking skills? What dish or person surprised you?
GZ: I was impressed by Laila Ali. I think that you're going to see these celebrities are excellent chefs. They just love it.
Betsey West: Will you rejoin the challengers for Chopped All-Stars? Would love to watch you cook!
GZ: If I'm invited back, I certainly would!
Brandon Smith: How do you manage your time between Chopped, Iron Chef America and the restaurants?
GZ: Good question. I'm fortunate to have two of my restaurants, Chopped and Iron Chef America in New York City. I keep a very full schedule.
Sergio Valdez: What do you like to do in your free time?
GZ: What free time? Ha. I like to stay really busy, with my restaurants and projects. I try to spend my free time with my children. I love them and love to spend as much time as possible with them. I also love golf as a way to unwind, and I love to travel with my wife and my family.
Cecelia Davidson: What's next for you?
GZ: You know, you never know in this business. I'm opening two restaurants on Norwegian Cruise Lines next week. I'm trying to open a steakhouse, and I'm writing a cookbook. My summer is busy! I wake up every day excited. Things change every day and I have a lot on my plate, but I'm excited.
More posts from Joseph Erdos.
Similar Posts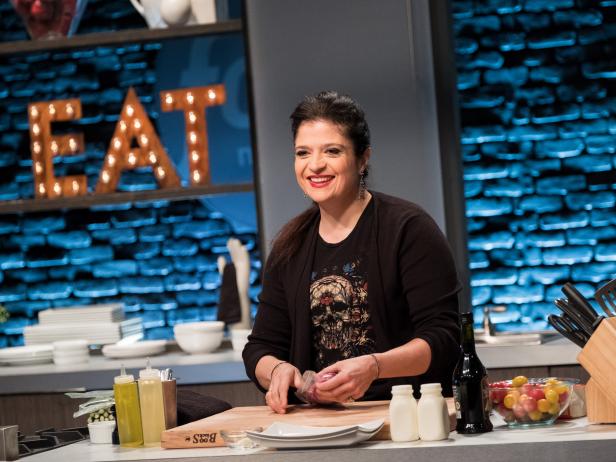 Get all the details on the upcoming premieres this weekend on Food Network....